Codfish Recipe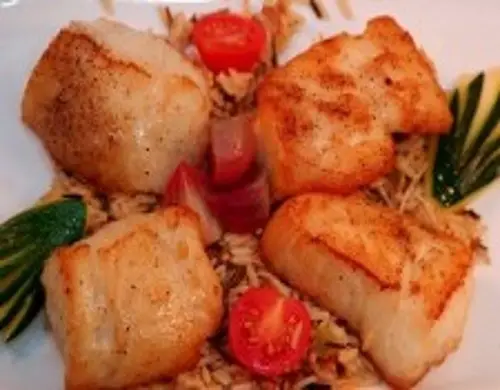 INGREDIENTS
2 pounds of prepared salt cod cut into 3 inch pieces.

2 15oz. cans of tomato puree.

1 stalk of celery chopped

1 bunch of long green onions chopped

2 cloves of garlic crushed

1 Tbls of capers

1 tsp red pepper flakes

1 tsp of dried oregano

1 tsp of sugar

1/4 cup of chopped parsley

1/4 cup of extra virgin olive oil

1 cup of flour for dredging

PREPARATION

Dredge the fish in flour. Shake off excess and set aside.

Heat oil in a frying pan and fry the cod on both sides until brown. About 1 minute on each side.

Remove cod from the pan and drain on a paper towel.

Add onions, celery, garlic and capers and saute for about 1 minute.

Add Tomatoes, red pepper, oregano and sugar and cook for about 30 minutes.

Return cod to the frying pan and cook covered about another 20 minutes.

Place fish topped with sauce on a plate and sprinkle with parsley.