Colcannon – St. Patrick's Day Potato Recipe
Colcannon – St. Patrick's Day Potato Recipe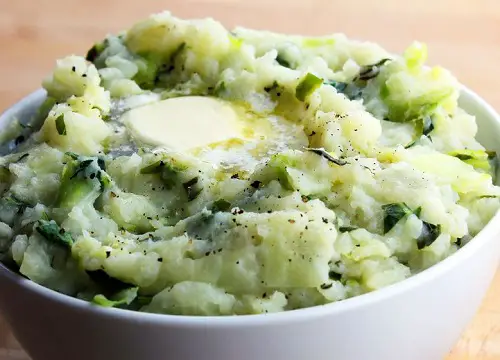 Ingredients
Preparation15 minutes Cook time35 minutes Servings Serves 4 to 6
    2lb of Yukon Gold Potatoes, peeled and cut into chunks

    1 cup of Heavy Cream

    5 Tbsp of Unsalted Butter (or salted if you prefer which I do here)

    1 Bunch of Tuscan Kale, cleaned, stem removed and greens finely chopped

    6 Scallions (4 if they are really big), finely chopped

    2 Tbsp of Olive Oil

    Salt and Pepper to taste
Preparation
1) Add the potatoes to a large pot, cover with water, add a generous pinch of salt and boil until tender.
    2) While the potatoes are cooking, cook the greens. In a large skillet, add one tablespoon of butter and olive oil, preheat over medium heat, once shimmering, add the kale, season with a pinch of salt and saute for about 5 minutes. Add the scallions, cook all together for another few minutes then remove from the heat and set aside while the potatoes finish cooking.
    3) Once the potatoes are about done, in a small saucepan add the cream and remaining butter, heat over low heat, meanwhile, drain the potatoes but reserve about 1/2 cup of the cooking liquid then add the potatoes back in its pot.
    4) Mash the potatoes along with the cooking water reserved, once smooth/ish, start adding the cream and butter mixture and keep stirring until you get your desired consistency. Then fold in the cooked greens mixture, add to a bowl and top with a tad more butter.