Neopolitan Easter Bread "Casatiello" Original Recipe – Giallo Zafferano
Neopolitan Easter Bread
"Casatiello"
Original Recipe by Giallo Zafferano
Easter Bread
The casatiéllo is a product of the Neapolitan cuisine . It is a sweet or savory cake , typical of the Easter period. It can be sweet, but also savory based on cheese , salami and eggs .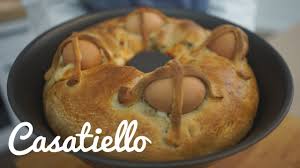 Its name is presumed to derive from the Neapolitan inflection of cheese ( cacio , from which cas' and finally casatiello ), an ingredient that makes up the mixture of this product.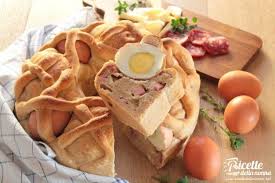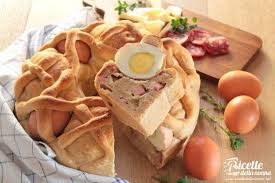 The spread of the casatiello, like the pastiera , another Neapolitan Easter product , seems to be attested at least since the seventeenth century .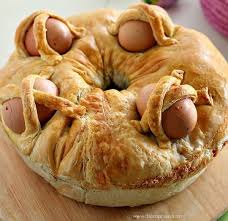 The casatiello is based on a bread dough treated with cheese , lard , ciccioli and other cured meats, then cooked, preferably in a wood oven .
The dough is worked in the shape of a donut, placed in a mold and left to rise for a long time, at least 12 hours; if done with a quick yeast it takes about 2 hours.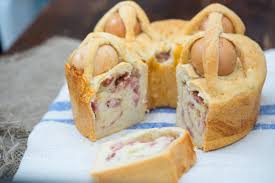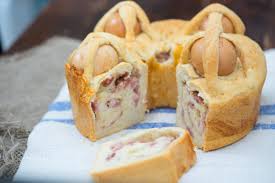 The casatiello, unlike similar products such as the tòrtano, is typical of the Easter , from which the symbolism mutates: the strips of bread to cage the eggs half-submerged in the dough represent the cross on which Jesus died  while the The annular aspect is a reference to the cyclicity inherent in the Easter resurrection .
During the preparation the eggs are placed whole and cooked in the oven together with the mixture; cooking takes place around 160-170 ºC for about 60-75 minutes.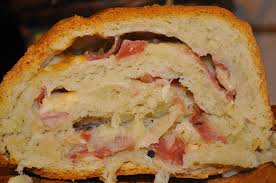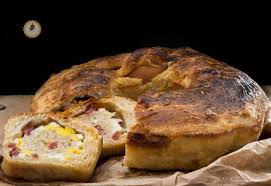 A sweet version of the casatiello is also composed of eggs, sugar , lard and icing , and decorated on the surface with diavulilli ( Neapolitan for « colored sugared almonds »): this variant is common in Caserta and is the only known in the area vesuviana coastal . Other sweet versions are widespread in Monte di Procida and in Nolano .