Corned Beef and Cabbage Ravioli
Corned Beef and Cabbage Ravioli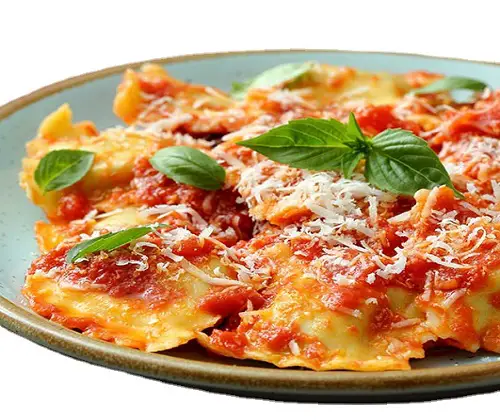 Ingredients
    1/2 head of cabbage (diced)

    1 tablespoon olive oil

    2 cups cooked shredded corned beef

    1 cup grated mozzarella cheese

    1/4 cup grated Parmesan cheese

    3 cups flour

    4 large eggs

    splash of olive oil

    pinch of salt

    2 cups tomato sauce (Prepared or your favorite store-bought brand.
Directions
Heat the olive oil in a large skillet over medium heat. Add cabbage and a little salt, and saute about 15 minutes until browned on the edges and softened.

Transfer cooked cabbage to a large bowl and add corned beef and cheeses.

Put the flour onto your work surface and make a well in the center. Add your eggs, oil, and salt. Stir the eggs with a fork, slowly incorporating more and more of the flour into the egg mixture. Finally, when most of the flour is incorporated, start kneading the dough, allowing it to take in as much flour as it needs. Once the dough comes together and feels smooth, wrap it and let it rest in the fridge for at least a half hour.

Run the pasta through your pasta machine at the thickest setting. It will look lumpy and weird. Fold it in half and repeat. Do this about 6 times until the pasta comes out nice and smooth. Split the dough into 3 equal sheets.

Move the pasta roller to the next thinner setting and run one of the pasta sheets through. Repeat moving only one or two notches at a time until you reach the second thinnest setting.

Fill a small bowl of water.

Place your pasta sheet onto a floured work surface. Put a heaping tablespoon of the filling onto the sheet of pasta in the bottom left corner facing you, about a half inch from the edge closest to you. Repeat every 2 inches until you reach the end of the pasta sheet.

Wet your finger in the bowl of water and paint water around the mounds of filling. This will help seal the pasta.

Fold the sheet of pasta towards you the long way, and one by one, work the dough around the filling, making sure to squeeze out as much air as possible and seal the pasta tight all the way around the filling.

Use a knife or a decorative pasta cutter to cut out the ravioli into circles. Place each finished ravioli onto a sheet or kitchen towel with a light coating of flour. Place the dough scraps in a pile to roll out again and make more ravioli.

Repeat with the remaining dough sheets until you run out of filling.

Boil the ravioli in salted water for about 5 minutes. Meanwhile, heat up the tomato sauce in a large pan. When the pasta is cooked, strain and place directly into the sauce. Toss to coat and serve with parmesan..