Courgette Spaghetti with Salmon
Courgette Spaghetti with Salmon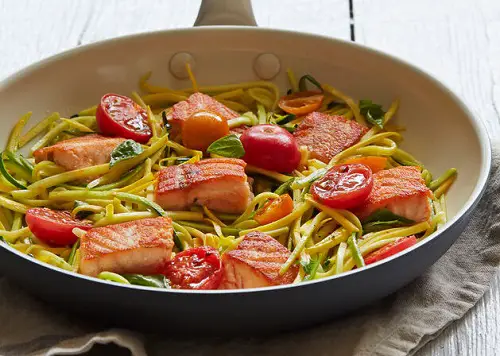 by GreenPan
Serves
Makes 4 servings
Ingredients
1½ lb. salmon, cubed
2 courgettes (zucchini), sliced into "noodles" with spiral slicer or julienne blade of mandoline
1 tablespoon of canola or peanut oil
2 tablespoons olive oil
½ lb. cherry tomatoes, halved
Salt and pepper
Marinade:
2 tablespoons olive oil
1 clove of garlic, minced
Pinch of paprika
Pinch of chile powder
½ lemon
Salt and pepper
Procedure
To make the marinade: In a bowl, mix the olive oil, garlic, paprika, chile powder and grated lemon rind. Season with salt and ppper. Pour the marinade over the cubed salmon and leave to marinate for a few minutes. In the meantime, use a spiral slicer or julienne cutter to slice the courgettes into "spaghetti noodles".
Heat the canola or peanut oil in a skillet. Sauté the courgette noodles and garlic for 2 minutes, until soft. Season with salt and pepper and remove from the pan. Set aside. In the same pan, sauté the cubed salmon for 3 to 4 minutes until tender.
Remove the salmon from the pan and briefly sauté the cherry tomatoes. Return all the ingredients to the pan and warm briefly over a high heat. Transfer to serving dish and garnish with fresh basil.