Cranberry Layered Cheesecake
Cranberry Layered Cheesecake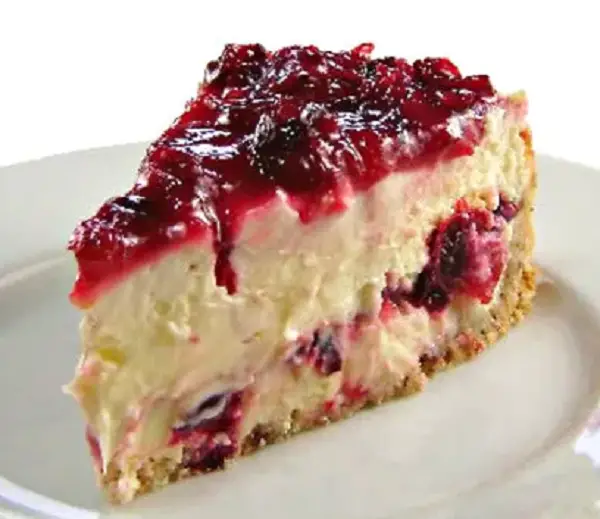 Ingredients:
Yield: 16 servings.
Pastry Layer
1/2 cup dried cranberries

2 cups cake flour

1/2 cup ground almonds

1/4 cup confectioners' sugar

1/4 teaspoon salt

1/4 teaspoon almond extract

1/2 cup cold butter, cubed
Cranberry Layer
3/4 cup sugar

2 tablespoons cornstarch

1/4 cup cranberry juice

2 cups fresh or frozen cranberries
Cream Cheese Layer
4 packages (8 ounces each) cream cheese, softened

1-1/2 cups sugar

1 teaspoon vanilla extract

4 eggs, lightly beaten
Sour Cream Topping
2 cups (16 ounces) sour cream

1/4 cup sugar

2 teaspoons vanilla extract
Whipped Cream Topping
1 cup heavy whipping cream
1 tablespoon sugar
1/4 teaspoon almond extract
Directions:
1) In a food processor, finely chop dried cranberries. Add flour, almonds and confectioners' sugar, salt and almond extract; process until blended. Add butter; pulse just until crumbly.
2) Press onto the bottom and 1-1/2 in. up sides of a greased 10-in. springform pan. Place on a baking sheet. Bake at 350° for 10 minutes.
3) In a small saucepan, combine 3/4 cup sugar and cornstarch; stir in cranberry juice until smooth. Add berries. Cook and stir until thickened and bubbly. Set aside.
4) In a large bowl, beat cream cheese, vanilla and sugar until smooth. Add eggs; beat just until combined. Pour half of batter into crust. Carefully spoon 3/4 cup berry mixture over batter; top with remaining batter.
5) Bake for 45 minutes. Reduce heat to 250°. Bake 25-30 minutes longer or until center is almost set. Combine sour cream, sugar and vanilla; spread over top. Bake 20-30 minutes or until set. Cool on a wire rack for 10 minutes. Run a knife around edge of pan to loosen; cool 1 hour longer. Spread remaining berry mixture over the top. Refrigerate overnight.
6) Beat cream with sugar and almond extract until stiff peaks form. Pipe around top edge of cheesecake.