Left over Turkey? Turkey Stuffed Shells in Tomato Cream Sauce
Left over Turkey?
Turkey Stuffed Shells in Tomato Cream Sauce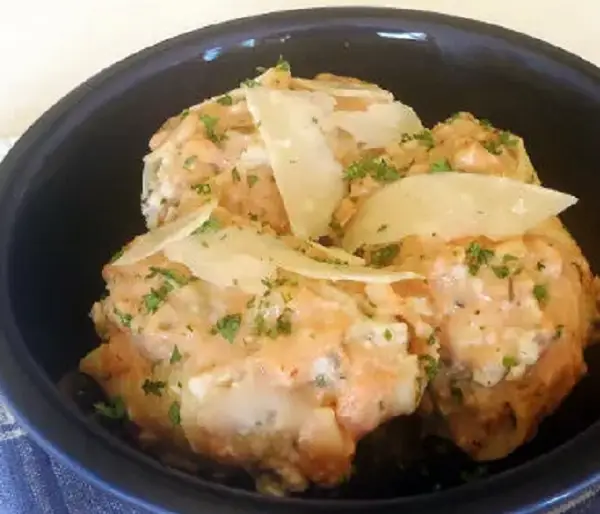 Instructions:
Yield: 4 to 5 servings.
Sauce
2-1/2 cups cold milk

4 tablespoons quick-mixing flour

2 tablespoons butter

1 teaspoon salt

1/4 teaspoon pepper

1 tablespoon concentrated sun-dried tomato paste (

1 teaspoon dried tarragon leaves

1/2 cup grated Parmesan cheese + shaved cheese for garnish
Filling
3 cups finely chopped cooked turkey

1/4 cup minced onion
Pasta
12 jumbo shells, cooked per package instructions
Directions:
1) Preheat oven to 400 degrees F. Lightly grease 9-inch square baking dish.
2) To make sauce: Combine milk, flour, butter, salt and pepper in a 2-quart saucepan and bring to a boil over medium heat while stirring constantly. Boil and stir for 1 minute or until sauce thickens. Stir in sun-dried tomato paste, tarragon, and Parmesan cheese, stirring until smooth. Adjust seasoning to taste.
3) To make filling: Combine turkey, grated onion and enough sauce to bind mixture together, about 1/2 to 3/4 cup.
4) To finish: Stuff each of 12 cooked shells with an equal portion of filling. Arrange shells in prepared pan. If sauce appears to be too thick, thin it with additional milk. Pour sauce over shells and top with some shaved Parmesan cheese. Bake for 20 to 25 minutes until cheese melts and sauce is bubbling.