Roast Chicken Thighs With Tomatoes and Herbs
Roast Chicken Thighs With Tomatoes and Herbs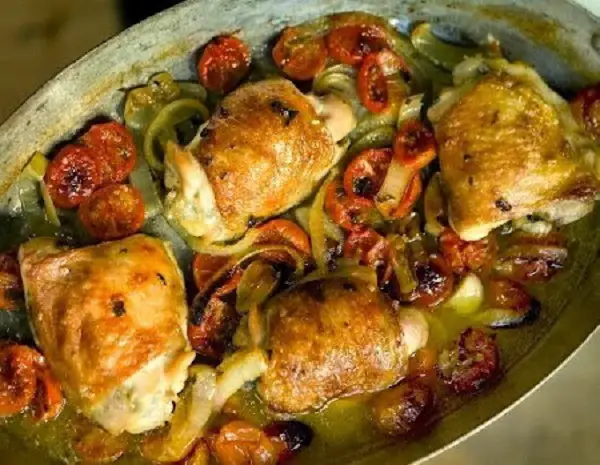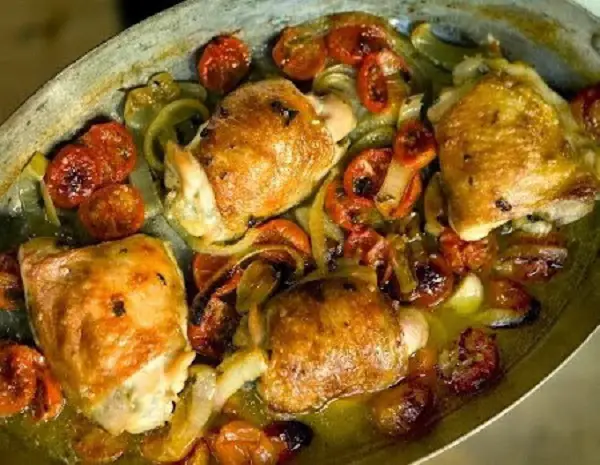 Ingredients:
Yield: 6 servings.
3/4 of a large (12-ounce) onion cut in 1/4-inch slices

6 to 8 cloves garlic, crushed but not chopped

1-1/2 pounds cherry or other small tomatoes, halved

1/4 cup olive oil

1/4 teaspoon crushed red pepper flakes or 1/8 teaspoon cayenne pepper

3 tablespoons roughly chopped fresh marjoram or thyme (divided)

Kosher salt

3 pounds bone-in chicken thighs (about 12 medium)
Directions:
1) Preheat oven to 450 degrees.
2) In a large bowl, combine the onion, garlic, tomatoes, olive oil, pepper flakes, 2 tablespoons herbs and 1 teaspoon salt; toss until everything's nicely mixed. Season chicken thighs on both sides with salt.
3) Arrange chicken thighs on two heavy rimmed baking sheets, with space between chicken pieces. Distribute tomato mixture and any juices around chicken so it's in an even layer around but not covering chicken.
4) Roast until chicken is totally tender when pierced with a knife (or reaches 170 degrees on an instant-read thermometer), 35 to 45 minutes. During roasting, check that tomato mixture isn't burning. If they're getting too dark, pour in a few spoonfuls of water or chicken broth into the pan.
5) When done, transfer chicken to a serving platter. Put a large sieve or colander over a bowl and carefully scrape tomato mixture into the sieve. Make sure you catch all the juices, which are delicious. Deglaze any browned juices on pans by pouring on a bit of water and scraping to dissolve. Add this liquid to vegetable juices already in bowl.
6) Drain vegetables for a few minutes; spoon around chicken. Sprinkle with reserved 1 tablespoon herbs and serve. Pass a bowl of reserved juices at the table to drizzle over chicken and vegetables.