Cream of Tomato Soup (Zuppa Di Pomodoro)
Cream of Tomato Soup
(Zuppa Di Pomodoro)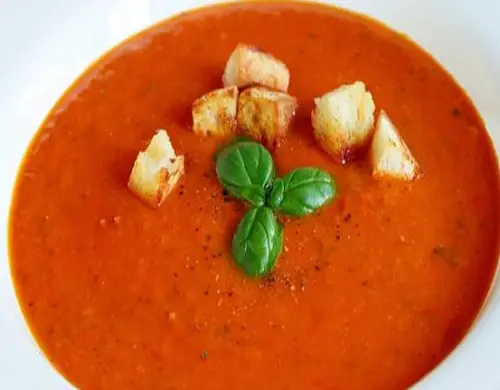 Ingredients:
Serves 4
2 and 1/4 lbs (1 kg) plum tomatoes, peeled, seeded and sliced

2 potatoes, diced

1 onion, thinly sliced

1 oz (25 grams) butter

3 and 1/2 fl oz (100 ml) double cream

Salt and pepper

Parmigiano cheese, freshly grated, to serve

Croutons, to serve (optional)
Directions:
Melt the butter in a saucepan.

Add the onion and cook over a low heat, stirring occasionally, for about 5 minutes until softened.

Add the tomatoes and cook for another 15 minutes.

Season with salt and pepper to taste.

Pour in 1 and 1/4 pints (750 ml) water.

Add the potatoes and bring to a boil.

Lower the heat and simmer for about 1 hour.

Transfer to a food processor and process to a puree.

Pour into a saucepan.

Reheat.

Stir in the cream.

Pour into a soup tureen and serve with Parmigiano cheese and croutons.