Fontina and Prosciutto Roll (Rotolo Di Fontina e Prosciutto)
Fontina and Prosciutto Roll
(Rotolo Di Fontina e Prosciutto)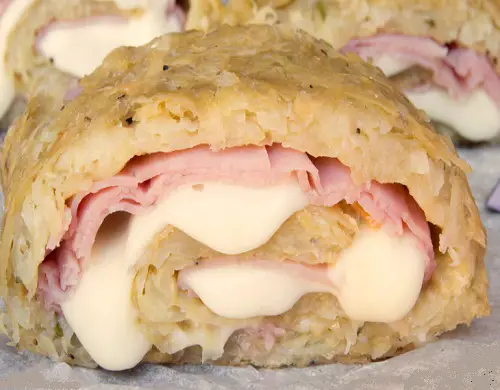 Ingredients:
Serves 4
11 oz (300 grams) plain flour, plus extra for dusting

3 eggs

3 and 1/2 oz (100 grams) cooked prosciutto or ham, sliced

7 oz (200 grams) Fontina cheese, sliced

1 and 1/2 oz (40 grams) butter

6 fresh sage leaves

Salt and pepper
Directions:
Sift the flour into a mound on the work surface and make a well in the center.

Break the eggs into the well and add a pinch each of salt and pepper.

Knead the mixture for 10 minutes, then gather into a ball, wrap in cling film and leave to rest for 15 minutes.

Roll out the dough on a lightly floured surface to a thin sheet.

Place the dough on a linen cloth and sprinkle with the ham and Fontina.

Using the cloth to help you, roll up into a sausage shape and tie the ends with kitchen string.

Bring a large pan of salted water to the boil, add the wrapped roll and simmer for 20 minutes.

Meanwhile, melt the butter with the sage leaves.

Drain the roll and unwrap.

Slice, place on a serving dish and spoon the sage butter over the slices.