Creamy Baked Asparagus and Aged Cheddar
Creamy Baked Asparagus and Aged Cheddar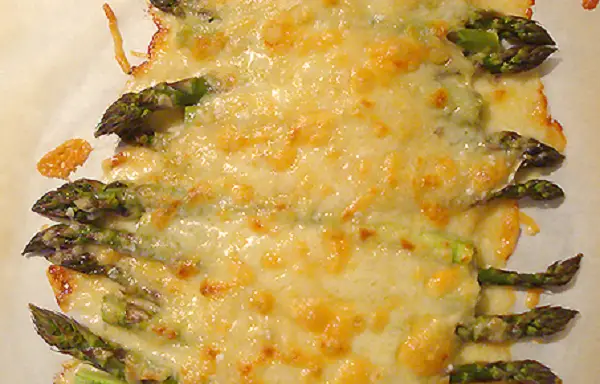 This is a great side dish for a grilled meat meal. It would also be great for entertaining or a brunch table.

Ingredients
1 bunch asparagus, trimmed of woody ends (about 20 spears)

2 Tbsp. butter

1/3 cup all-purpose flour

Scant 1 cup milk

1 egg yolk

1/4 tsp of dry, powdered mustard

Dash of Worcestershire sauce

1/4 – 1/2 tsp. salt

Black pepper, to taste

1 1/2 cups grated aged, white cheddar (or a combination of cheddar and Parmesan)
Instructions
Preheat oven to 400° F. with rack in centre of oven, and line a baking sheet with parchment paper.

If your asparagus is thick, blanch the asparagus in a large pan of salted water for one minute, remove and refresh in ice water or microwave on a plate for about 90 seconds. If your asparagus is thin, you're probably good to go as is. Divide the asparagus in half and lay on parchment on baking sheet with the cut ends touching in the middle. Set aside.

In a medium sauce pan, melt the butter over medium heat. Add the flour and whisk, stirring constantly for 1-2 minutes until lightly golden. Remove the pan from the heat and gradually whisk in the milk to form a smooth sauce. Return to the heat, stir and simmer for 2-3 minutes until thickened.

Remove from the heat and beat in the egg yolk, mustard, Worcestershire sauce and salt. Taste and add more salt, as needed. Season with freshly ground pepper.

Pour sauce over the middle of the asparagus. Top with the grated cheddar cheese.

Bake at 400° F. for 8-10 minutes, then move rack to upper part of oven, switch your oven to broil and broil until the sauce is bubbly and golden.

Top with a bit more freshly ground pepper and serve immediately.