Creamy Clams and Mussels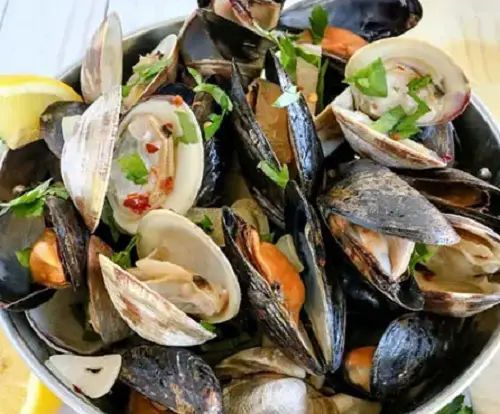 Here's a great recipe that is easy to make and will be a crowd pleaser!
Ingredients
8 cloves garlic, smashed
2 shallots, thinly sliced
1 pound fresh clams, rinsed and cleaned
1 pound fresh mussels, beards removed, rinsed and cleaned
2 tablespoons butter
1 cup white wine
1 cup cream
1 tablespoon fresh chilies, chopped
salt and pepper
¼ cup chopped parsley
In a deep sided non-stick pan, melt the butter over medium-high heat. Add the garlic and shallots. When the garlic begins to brown add the clams, mussels, white wine and cream. Cover and simmer 10 minutes. Add the chilies and season with salt and pepper. Cover and cook for an additional 2-3 minutes or until all the shells have opened. Toss in the parsley and serve with toasted bread.