Crock Pot Hoagies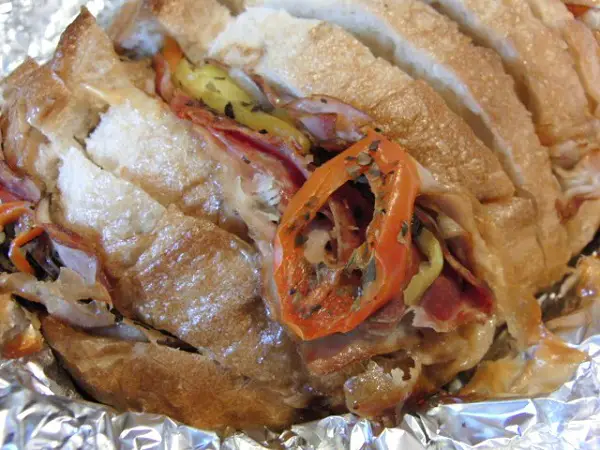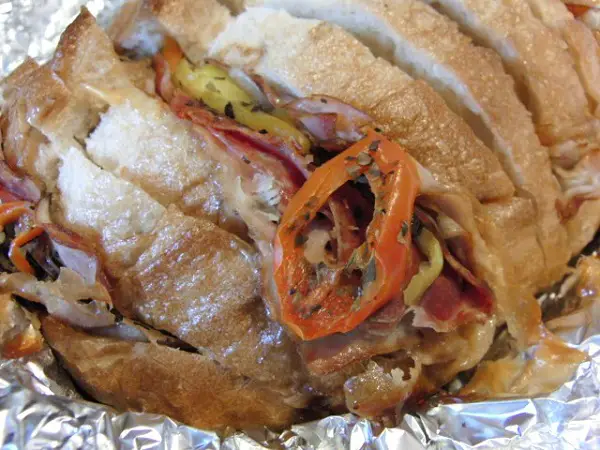 Crock Pot Hoagies is one such recipe.  All of the ingredients for a hoagie sandwich are stuffed between slices of a large loaf of artisanal bread and heated until hot and melty and just plain good — in your crock pot!  Slices of Prosciutto , Capicola, salami, and provolone cheese and layered with sweet peppers, red onions and Italian spices

Ingredients
serves 6
This recipe uses a  6-quart oval crock pot.  If your loaf of bread is too large for your crock pot, slice off some of the end.  Use thin sliced meats and cheeses in this sandwich.
One oval loaf artisan bread – make sure it fits in your crock pot

18 slices provolone

18 slices prosciutto

18 slices sweet or hot Capicola

18 slices Genoa Salami

Sweet pepper rings

Thin red onion slices

Olive oil

Oregano and basil

Large 6 quart oval crock pot
Directions
Slice bread 13 times, almost all the way through but leaving 1/2 inch space at the bottom.

 Layer three slices of cheese and top with 3 slices each of prosciutto, Capicola, and Salami.

 Top with pepper rings and onions.

Sprinkle with oregano and basil and repeat 5 times. Fold each bundle in half and tuck down between every other slice of bread to create 6 sandwiches.

The sandwich may have "arched" its back, gently push down and wrap tightly in one then a second piece of heavy foil.

Place in crock pot on top of a small aluminum foil pan or balls of foil so it does not touch bottom of insert. Pour in 1/3 cup of water it does nothing for the sandwich since it is wrapped up so tightly in foil. Cover and cook on low for 2-4 hours.

Remove foil-wrapped sandwich from crock pot.  To serve, cut each sandwich apart, drizzle the insides lightly with olive oil, and enjoy.

Makes six sandwiches with the center two being quite generous in size.
Note- you may not need all the meat and cheese as the sandwiches on the ends are a bit smaller and will not hold as much.  Since the sandwich is wrapped in foil, it does not get soggy.  it is hot and steamy with the ham, Capicola, salami, and cheese all melted together.