Prosciutto and Gruyere Pinwheels
Prosciutto and Gruyere Pinwheels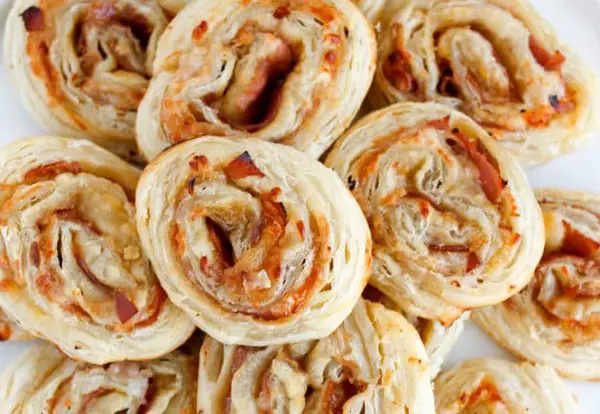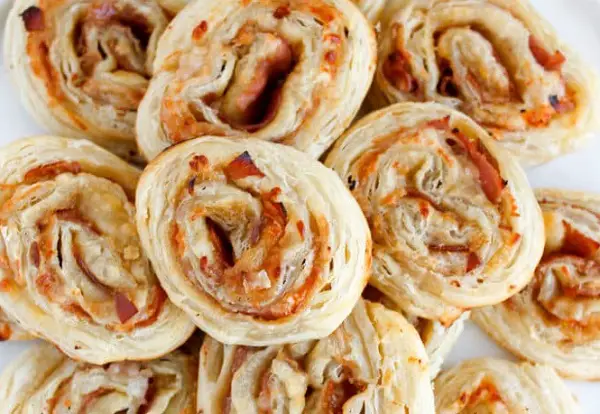 Ingredients:
(Makes about 24-30 depending on how thick you cut them)
1 sheet puff pastry (half of 17 ounce package), thawed

4 ounces thinly sliced prosciutto

2 tablespoons chopped fresh basil or parsley

3/4 cup grated Gruyere cheese

1 egg, beaten (for glaze)
Directions:
Cut puff pastry sheet in half, forming two 9-1/2 x 5-inch rectangles.

Arrange prosciutto over pastry, leaving 1/2-inch border along one long side.

Sprinkle with basil and then evenly top with the cheese.

Brush plain border with egg glaze.

 Refrigerate remaining glaze.

 Starting at long side opposite border, roll up pastry jelly-roll style.  Press gently to seal long edges.  Wrap in plastic and refrigerate until firm, at least 3 hours and up to 2 days.

Preheat oven to 400 degrees F.  Line 2 baking sheets with parchment paper.

Brush logs with egg glaze. Cut logs crosswise into 1/2-inch thick rounds.

Arrange rounds on baking sheets.

Bake until pastries are golden brown, about 15 minutes.  Serve warm.