Zucchini Pie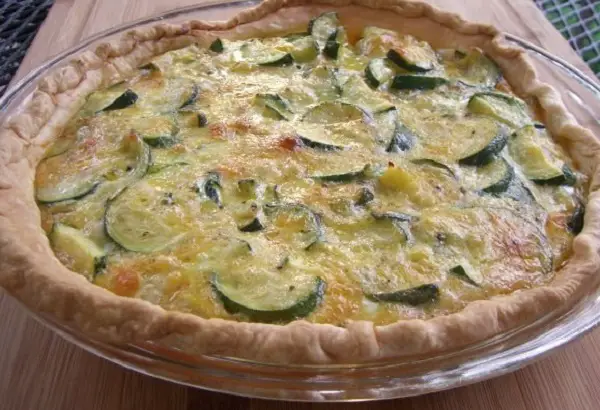 Ingredients
Dijon mustard

1/4 cup butter

4 cups sliced zucchini

1 cup diced onion

1/2 cup fresh parsley, chopped

1/2 teaspoon salt

1/2 teaspoon pepper

1/2 teaspoon oregano, dried

1/4 teaspoon garlic salt

2 cups shredded cheese, I used a combination sharp cheddar and mozzarella

2 extra large eggs, beaten
Directions
Preheat the oven to 375 degrees.

Line a pie plate with the pie crust and brush with Dijon mustard. Set aside.

Melt butter in a large saute pan and add zucchini and onion. Saute for about 8 minutes.

Add the parsley, salt, pepper, oregano and garlic salt. Toss to coat.

 Cool slightly and then add cheese and eggs and mix.

Pour into the prepared pie crust and bake for about 25 – 30 minutes.

Cool slightly before serving.