Cucumber Salad With Roasted Pepper Lime Vinaigrette
Cucumber Salad With Roasted Pepper Lime Vinaigrette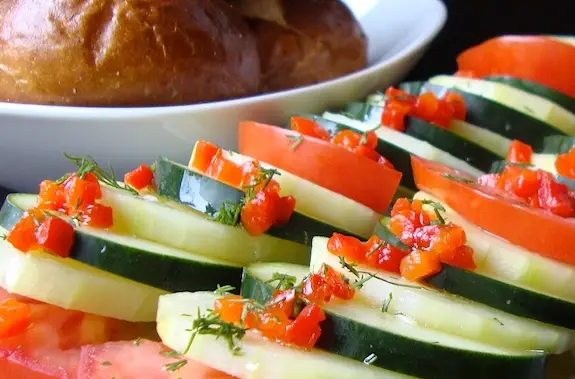 Ingredients
Salad:
6 large cucumbers

1 large tomato

2 tablespoons fresh dill, chopped

Sea salt and Black Pepper
Directions

Peel three of the cucumbers and slice into 1/2″ thickness.

Slice tomato and the rest of the cucumbers to the same thickness.

Season with sea salt and black pepper.

 Arrange on a large serving platter (refer to picture).

Scatter dill over the top of the salad.
Ingredients
Vinaigrette:
1 roasted red pepper, chopped finely

1/4 cup extra virgin olive oil

3 teaspoons honey

3 tablespoons fresh lime juice

3/4 teaspoon minced fresh garlic
Directions

Gently whisk olive oil, fresh lime juice, honey, and fresh garlic to combine.

Season with salt and black pepper to taste.

Add roasted pepper.

Drizzle over the salad just before serving.