Deep Dish Tomato Pie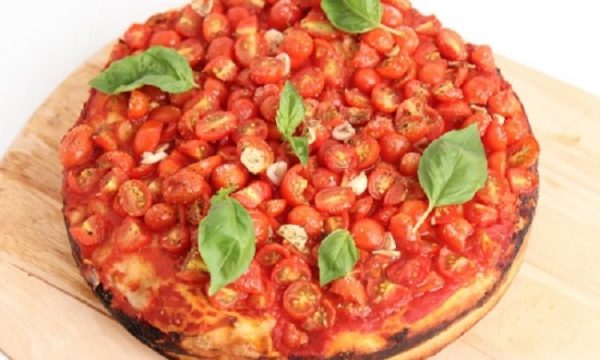 Ingredients
    1-1/2 cups or so of Passata or any seedless tomato puree

    2 cups of Cherry Tomatoes, halved or quartered if they are very big

    4 Cloves of Garlic, minced

    Fresh Basil

    A pinch of Dried Oregano

    Extra Virgin Olive Oil

    Salt and Pepper, to taste
Preparation
    1) Grease a round deep dish pizza pan (about 12") with oil all over the bottom and sides.
    2) Place your pizza dough in the center of the pan. Using your hands, stretch the dough to cover the bottom of the pan.
    3) Cover the pan loosely with plastic wrap, place it somewhere warm to rest for about an hour.
    4) Preheat your oven to 450 degrees.
    5) Smear the passata all over the surface of the pizza dough, season lightly with salt. Mix your tomatoes with the garlic and about a tablespoon of Olive Oil and salt. Spread this mixture all over the top of your pizza dough.
    6) Cook your pizza for about 25 minutes or until the edges are golden brown and crispy.
    7) Allow to cool for about 5 minutes, scatter fresh basil over the top followed by a light drizzle of olive oil and enjoy!