Duck with olives A delicious recipe from Genova
Duck with olives A delicious recipe from Genova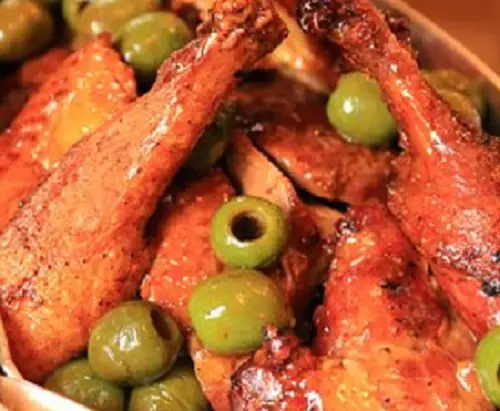 Ingredients for 6 people:
1 duck 4-6 lbs
1 onion, chopped
15 olives
1 stalk of celery, chopped
1 chopped carrot
2 lemons
1 ladle of broth
1 bay leaf, chopped
2 tablespoons chopped parsley
extra virgin olive oil 1 dl
salt, pepper.
PREPARATION
Gutted duck, flame it, wash and dry it. Put the slices in a lemon then sprinkle with the parsley, salt, pepper and bay leaves, drizzle with oil and let it marinate for about 2 hours turning it often.
Separately in a pan, sauté the chopped onion, carrot and celery with a little oil, add the duck and place in preheated oven at 180 ° C for 45 minutes, adding occasionally a little 'stock lest to dry too.
Once in half cooked sieve vegetables and black olives that you will join in part shredded and partly left whole pitted. Drizzle with the remaining lemon juice and cook the sauce giving the time to shrink.
Serve warm, whole or cut into pieces and drizzled with gravy, vegetables and olives.