Egg and Tomato Salad with Capers
Egg and Tomato Salad with Capers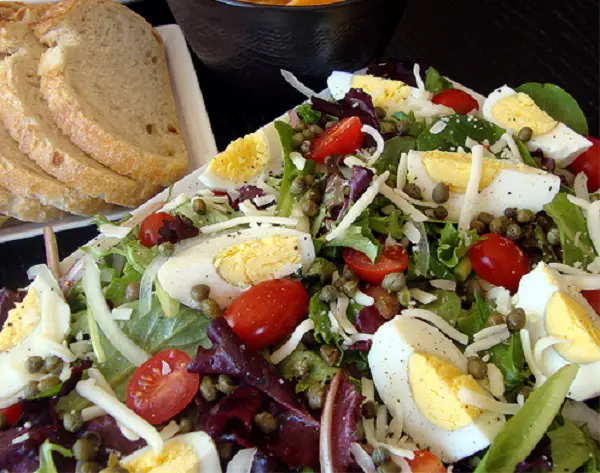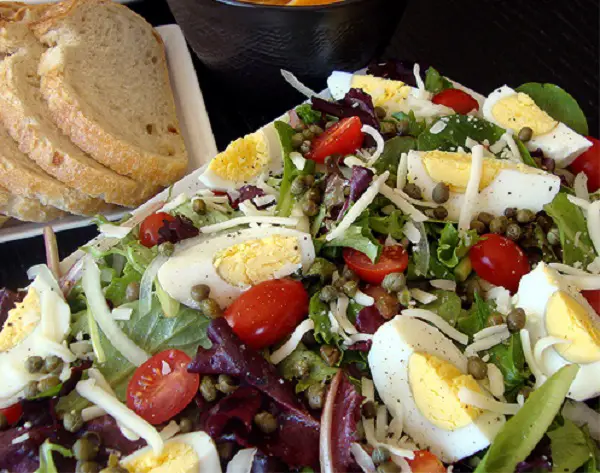 Ingredients
Salad:
6 large hard boiled eggs, remove shell and cut into quarters

6 cups mixed salad greens

1 medium onion, thinly sliced

1 cup cherry tomatoes, cut in half

1/4 cup grated fresh mozzarella

4 teaspoons capers

Sea salt and black pepper
Directions
Arrange salad ingredients on a large serving platter (refer to picture).
Ingredients
Vinaigrette:
8 large garlic cloves, roasted and peeled

3 tablespoons red wine vinegar

1 tablespoon whole grain mustard

1 tablespoon fresh lemon juice

1/2 cup extra virgin olive oil

Sea salt and black pepper
Directions
Combine the garlic, vinegar, mustard, honey, lemon juice and sea salt and black pepper in a blender and blend until smooth.

With the motor running, slowly add the oil until emulsified.

Drizzle generously over the salad.