Green Beans and Yellow Squash With Tomatoes
Green Beans and Yellow Squash With Tomatoes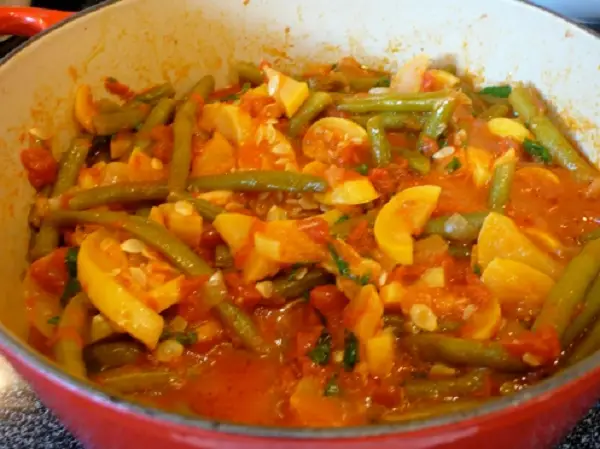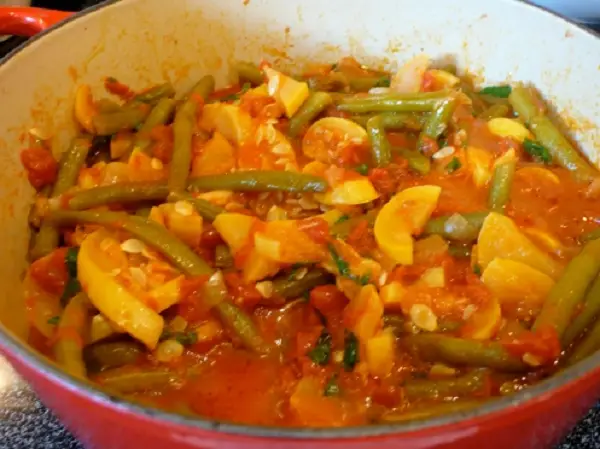 Ingredients
Serves 4.
    3 tablespoons extra virgin olive oil

    1 large onion, chopped

    2 large garlic cloves, minced

    1 pound fresh green beans, trimmed

    3/4 pound yellow squash (3 medium squash)

    1 (14-ounce) can chopped tomatoes, or 1 1/2 cups peeled, chopped tomatoes

    Salt and freshly ground pepper to taste

    1/4 cup chopped fresh mint, parsley or dill

    1 to 2 tablespoons fresh lemon juice (optional)
Directions
Heat 2 tablespoons of the olive oil in a wide, covered skillet or Dutch oven over medium heat, and add the onion.

Cook, stirring, until tender and translucent, five to eight minutes.

Add the garlic and cook, stirring, for another minute until fragrant.

Stir in the green beans, squash and remaining oil.

Stir together for a few minutes, then add the tomatoes and 1/2 cup water.

Bring to a simmer, then add salt and freshly ground pepper.

Cover and simmer 30 minutes until the beans are tender and the mixture is stew-like.

Add the herbs, and simmer for another five to 10 minutes.

Add lemon juice if desired.

Taste, and adjust seasonings with salt and pepper.

Serve hot or at room temperature.