Egg Stuffed Tomatoes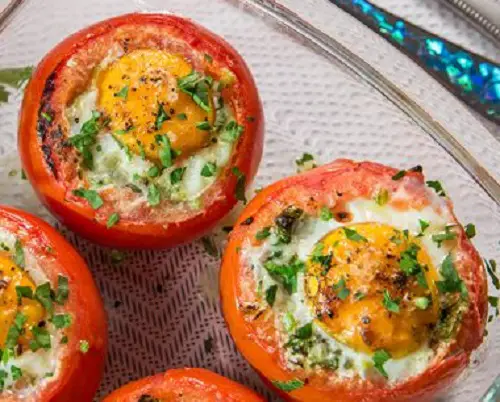 INGREDIENTS
  2 large, firm tomatoes

  Olive oil spray

 ½ teaspoon  kosher salt

½ teaspoon black pepper

 ½ teaspoon garlic powder

½ teaspoon dried thyme

4 small eggs

¼ cup grated Parmesan

2 tablespoons chopped parsley for garnish
INSTRUCTIONS
Preheat your oven to 400 degrees F.

Cut the tomatoes in half.

Cut a tiny sliver from the bottom of each half, so that the tomatoes can stand upright without wobbling. Carefully scoop the seeds and pulp out with a spoon. You can run a sharp knife around the pulp to loosen it if needed.

Spray the hollowed tomatoes all over with olive oil.

Place them on a baking dish, cut side up. Sprinkle the tomatoes with salt, pepper, garlic powder and thyme.

Break each egg into a small ramekin, then slide it into a tomato half. If your eggs are large, you'll need to discard some of the egg whites, to enable the eggs to fit inside the tomatoes.

Top the tomato halves with the Parmesan, 1 tablespoon for each tomato half.

Bake the egg stuffed tomatoes until egg whites are set, about 20 minutes. Carefully pour out any extra liquids that might have accumulated around the baked eggs. Garnish with parsley and serve.