Salmon with Roasted Tomatoes
Salmon with Roasted Tomatoes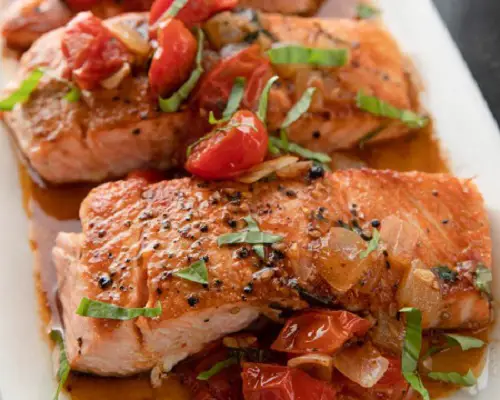 Ingredients
wild salmon, 2 individual portions

1½ pints of cherry or grape tomatoes

2 shallots, thinly sliced

3 cloves garlic, shaved

fresh basil

olive oil

salt and pepper
Instructions
Preheat oven to 400 F.

Into a baking dish add the tomatoes,some fresh snipped basil, garlic and shallots, drizzle everything with olive oil, a little salt and pepper and roast uncovered for 15 minutes

Place salmon, skin side down on tomato-shallot mixture.

Sprinkle with a tiny bit of salt and pepper.

Roast uncovered 15 to 18 minutes depending on how thick your fish is basting it once with all those juices during the cooking time.

Garnish with lemon zest.