Zucchini ricotta pie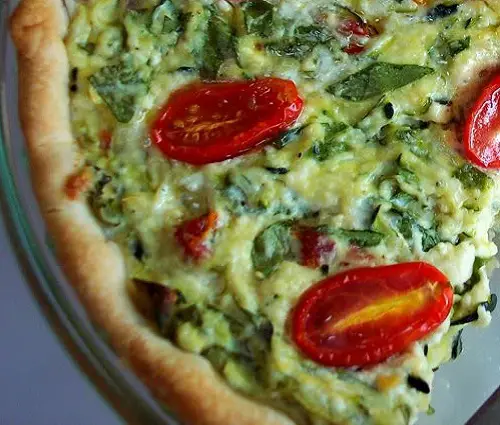 Ingredients
3 cups zucchini, unpeeled and thinly sliced

1 tablespoon olive oil

1 large yellow onion, thinly sliced

2 cloves garlic, minced.

Salt and freshly ground pepper

Handful of fresh basil, sliced

2 tablespoons fresh parsley, finely chopped

4 eggs, lightly beaten

½ cup Parmesan cheese, grated

1-1/2 cup ricotta cheese, drained

Small tomatoes, cut in half

butter and dried breadcrumbs to coat the baking dish (The breadcrumbs become the crust)
Instructions
Preheat oven to 350F.

Liberally butter a 9-inch pie dish and sprinkle with breadcrumbs.

Pour olive oil into a large skillet and heat to medium hot. Saute zucchini slices and onions until tender, about 10 minutes. Add garlic and cook for another 2 minutes. Season with salt and pepper. Let the mixture cool for 15-20 minutes.

Combine eggs, Parmesan cheese and ricotta cheese and blend well. Add basil and parsley. Mix in the cooled zucchini and onions. Pour into pie shell. Top with sliced tomatoes

Bake for 35 minutes until puffed and golden brown. Garnish with chopped basil if desired.