Spicy Eggplant Tomato Sauce
Spicy Eggplant Tomato Sauce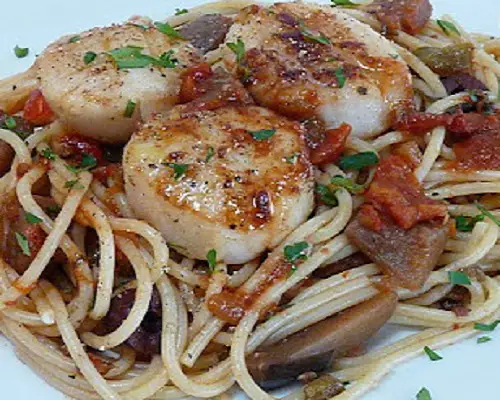 Spicy Eggplant Tomato Sauce

Ingredients
1/4 cup olive oil

1 onion, peeled and chopped

2 teaspoons dried basil, crumbled

2 teaspoons dried oregano, crumbled

1/2 teaspoon red pepper flakes (or more if you want extra spicy)

20 Kalamata olives, sliced (about 1/2 cup)

20 green olives, pitted and sliced (about 1/2 cup)

1/2 cup sun-dried tomatoes, soaked in hot water to soften, drained, and then chopped

6 cloves garlic, peeled and minced

1 large globe eggplant or 2-3 smaller Italian eggplants, stemmed and diced

2 green bell peppers, cored, seeded and diced (or orange or yellow peppers)

3 pounds cored, skinned, seeded, and chopped fresh tomatoes (or 3 14-1/2 ounce cans)

2 cups dry red wine

2 cups vegetable stock or chicken broth

2 tablespoons tomato paste

1 tablespoon fresh oregano, chopped or torn

1 tablespoon fresh basil, torn

Sea salt and freshly ground black pepper to taste
Directions
In a large skillet heat the oil.

Add and slowly saute the onions with the basil, oregano and red pepper flakes until softened but not brown, about 20 minutes.

Stir in the olives, sun-dried tomatoes and garlic and saute for a few minutes more to meld the flavors.

Add bell peppers and eggplant and stir to coat with oil.  Saute briefly, about 2 minutes.

Add tomatoes, red wine, vegetable broth and tomato paste.

Simmer very slowly for about 1 hour, adding a little more stock if the sauce becomes too thick.

Add fresh oregano and basil and season with salt and pepper.
Today I seared scallops and topped a plateful of pasta.
You can Serve hot over anything with  sauteed polenta or cooked pasta.