Zucchini Noodles with Slow-Roasted Cherry Tomatoes
Zucchini Noodles with Slow-Roasted Cherry Tomatoes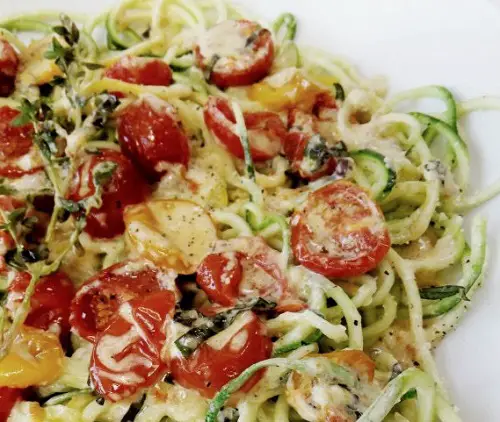 Ingredients
For the Slow Roasted Cherry Tomatoes and Cream Sauce,
I used a mixture of both yellow and red cherry tomatoes for added color

1 pint of yellow cherry tomatoes, cut in half

1 pint of red cherry tomatoes, cut in half

2 tablespoons unsalted butter

1 shallot, minced

2 or 3 fresh thyme sprigs

small handful, chopped fresh basil

¾ cup heavy cream

¾ cup of freshly grated Parmigiano Reggiano cheese

olive oil

salt and pepper to taste
Instructions
Arrange the cherry tomatoes cut side up on a rimmed baking sheet. Drizzle all over with olive oil, salt and pepper. Roast at 275 degrees F for 1½ hours until puckered but still juicy.

Heat the butter in a saute pan over medium low heat, when the butter is melted and starts to foam add the shallot, cook until softened.

Scrape in the tomatoes and any juices that collected on the baking sheet.Add the thyme sprigs and pour in the cream, I added half of the cheese by sprinkling it around the tomatoes and into the cream.

Heat gently on low until it simmers. Turn off the heat and stir in basil.

In a larger saute pan, drizzle with oilve oil and place your zucchini noodles on top, gently cooking and carefully tossing until just slightly wilted and still al dente, just a few minutes.

Place zucchini noodles onto a serving platter and spoon the sauce right over the top, adding more parmesan cheese.