Tuscan-Style Sirloin with Parmesan, Lemon and Truffle Oil
Tuscan-Style Sirloin with Parmesan, Lemon and Truffle Oil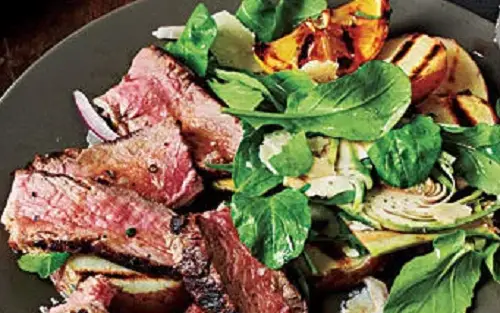 Yield: 4
4 sirloin steaks (10 to 12 ounces each), preferably prime

Kosher salt and freshly ground black pepper

Vegetable oil for brushing the steaks

1 head endive, separated into leaves (about 12 leaves)

4 cups lightly packed arugula leaves, washed and dried

1 large portabella mushroom cap (about 5 inches across), cleaned and sliced paper-thin

1 lemon, halved

6 tablespoons extra virgin olive oil

2 ounces Parmesan shavings

4 teaspoons truffle oil (optional)
Instructions:
Traditionally prepared with a T-bone steak, weighing in at a little over a pound, this is a dish for devoted carnivores.
Prepare a grill with hot and medium cooking areas.

Sprinkle the steaks liberally on both sides with salt and pepper. Brush on each side with vegetable oil.

Set the steaks on the hottest part of the grill. Sear the steaks for 2 minutes, then flip and sear on the other side for 2 minutes. After the initial searing, move the steaks to the medium part of the grill and continue cooking until done, flipping them regularly so they cook evenly. When their temperature registers between 5 and 10 degrees below the desired state of doneness pull them off the grill: Figure on 120°F for rare; 126°F for medium-rare; or 134°F for medium. If you like your steaks rare, begin checking their internal temperature as soon as the initial searing finishes. It's unlikely they'll be done, but it's always better to be safe than sorry. Steaks and grills are variable, so judge when a steak is done by its look and feel, or internal temperature as indicated by an instant-read digital thermometer, not by the number of minutes it has cooked. (As a very general guideline, for 1½-inch-thick steaks cooked on a charcoal grill, rare steaks should be pulled 2 to 4 minutes after the initial searing; medium-rare steaks will need another 5 to 7 minutes, medium steaks, 8 to 9 minutes. Steaks cooked on a gas grill will take slightly longer.)

Put the steaks on a warm platter, cover loosely with foil, and let them rest for 5 minutes.

Meanwhile, put the endive, arugula, and mushroom slices into a large bowl. Squeeze the juice of one lemon half over the salad. Add the olive oil, season with salt and pepper, and toss well. Taste, then adjust the seasonings if necessary.

Cut the second lemon half into 4 wedges. Distribute the salad among four plates. Set a steak on top of each salad, sprinkle with the shaved Parmesan, drizzle with the truffle oil, if using, and garnish each with a lemon wedge. Serve immediately.