Risotto with saffron and king prawns
Risotto with saffron and king prawns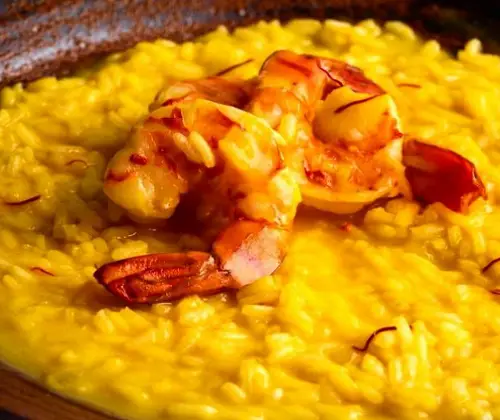 1 small brown onion, finely chopped
2 tbsp extra virgin olive oil
1 tbsp butter + 1 more, just before serving
350 g Carnaroli or Arborio rice
½ cup dry white wine
2 litres stock, heated to a gentle simmer
½ cup freshly grated Parmigiano
1 tsp saffron strands
8 green King prawns, peeled and deveined
Salt and pepper to taste
Stir fry the onion gently with oil and 1 tbsp butter. Add a pinch of salt and cook for a few minutes or until the onion is soft.
Add the rice and toast with the onion, stirring well, for 1 minute or until translucent.
Add the white wine and allow the alcohol to evaporate, stirring gently.
Turn the heat down and start adding the stock a ladleful at a time, while stirring gently. Keep adding stock as it gets absorbed, until the rice is cooked. This will take around 15-18 minutes, depending on the type of rice you use.
Turn off the heat. Add a generous dusting of Parmigiano, a tbsp of butter and one ladleful of stock. Season to your liking. Stir vigorously to release the starch and create the classic all'onda ('the way of the waves') texture. Add the saffron, stir well, add the prawns. Cover with a lid and let it rest for a few minutes, to allow the residual heat of the pan to cook the prawns and to create the perfect mantecatura, creaminess. Shake the pan, then serve in a shallow bowl (when risotto is served in deep bowls it keeps cooking).