Eggs alla Puttanesca Recipe
Eggs alla Puttanesca Recipe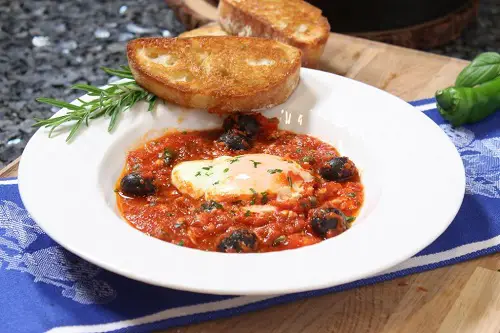 Ingredients
    20 oz Tomato sauce
    1/3 cup Black olives
    4 Eggs
    2 Tbsp Capers washed
    1 Rosemary sprig chopped
    4 Garlic cloves chopped
    3 Tbsp Parsley chopped
    1 Tbsp Italian long hot pepper chopped, optional
    5-7 Basil leaves
    4 slices Ciabatta bread
    Pecorino cheese or parmigiana freshly grated for topping
    Sea salt to taste
    Black pepper to taste
    Extra virgin olive oil
Instructions
    In a deep frying pan, pour in about two ounces of olive oil and heat over a medium flame. Add in the garlic and hot pepper and fry for about one minute or until the garlic is golden, making sure to stir so that the garlic doesn't burn.
    Lower the flame and pour in the tomato sauce. Let the tomato sauce simmer for about three minutes, stirring occasionally.
    Add in the rosemary, capers, black olives, parsley, and rip in the basil leaves and mix together. Cook over a low flame for about ten to fifteen minutes, stirring occasionally.
    Drizzle olive oil over the four slices of ciabatta bread and place in the oven at 400°F. Bake until the bread is toasted and golden.
    Crack four eggs over the puttanesca sauce and cover with the frying pan lid. For a runny yolk, cook over a medium/low flame for about five minutes. Cook longer for a dry yolk. Make sure to check on the egg to make sure it doesn't overcook, to your preference.
    Remove the bread from the oven and rub one garlic clove over each side of the bread to add flavor. Serve with the eggs alla puttanesca, sprinkle some freshly grated pecorino cheese on top and enjoy! Salute and cin cin!