Pancetta & Egg Tart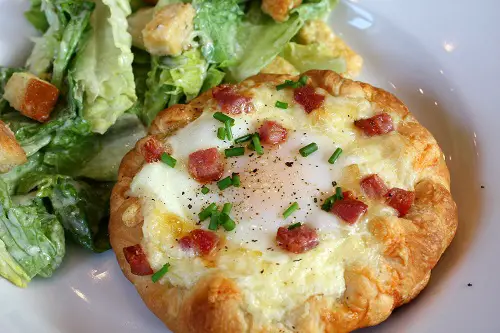 Ingredients
   All-purpose flour, for dusting

    1 sheet frozen puff pastry (half of a 17-to-18-ounce package), thawed

    2 thick slices of pancetta, diced (substitute bacon if desired)

    1 1/2 cups shredded havarti cheese

    4 tablespoons shredded parmesan cheese

    4 large eggs

    Kosher salt and freshly ground pepper

    Chopped fresh chives, for topping
Directions
Preheat the oven to 425 degrees F. Line 2 baking sheets with parchment paper.

On a lightly floured surface, roll out the puff pastry into a 12-inch square, then cut into 4 equal squares. Slightly fold and pinch the edges of each square to form 4 round tart shells.

Press down on the folded over dough to prevent the dough from rising out of shape.

Transfer to the prepared baking sheets and prick all over with a fork.

Bake until golden, 8 to 10 minutes.

Meanwhile, cook the pancetta in a medium skillet over medium heat, turning, until crisp, 8 to 10 minutes.

Transfer to paper towels to drain, then crumble.

Let the tart shells cool slightly on the baking sheets. If the centers are very puffy, prick with a fork to deflate. Sprinkle evenly with the havarti and parmesan.

Make a shallow well in the cheese in the center of each tart and crack an egg into each; season with salt and pepper. Top with the pancetta,

then return to the oven and bake until the egg whites are set, 10 to 15 minutes (12 minutes if you want a runny yolk). Top with chives.