Escarole with Italian Sausage and White Beans
Escarole with Italian Sausage and White Beans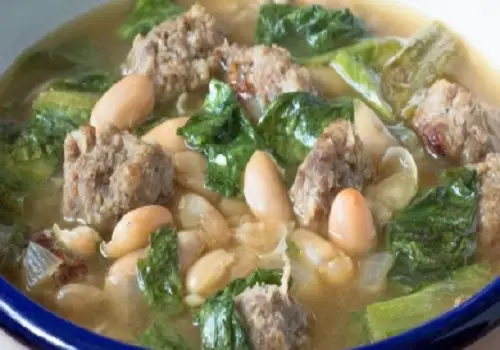 Ingredients:
Serves 12 as a side-dish or 6 as main-course.
3 tablespoons extra virgin olive oil

12 Italian sausages (about 3 lbs), casings removed

1 cup chopped onion

1/2 cup chopped prosciutto (about 2 ounces)

1 tablespoon minced garlic

1/2 teaspoon dried crushed red pepper

1 large head escarole, chopped (about 10 cups)

3/4 cup dry white wine

Four 15-ounce cans white beans, rinsed, drained

1 cup chicken stock or chicken broth

Freshly grated Parmigiano cheese (optional)
Directions:
Heat olive oil in heavy large pot over medium-high heat.

Working in batches, saute sausage until cooked through, breaking up with back of spoon, about 6 minutes per batch.

Using slotted spoon, transfer sausage to bowl, leaving drippings in pot.

Reduce heat to medium; add onion to pot and saute until translucent, about 5 minutes.

Add prosciutto and saute 1 minute.

Mix in garlic and crushed red pepper.

Add escarole and saute until wilted, about 2 minutes.

Add wine and cook 2 minutes.

Add beans, stock and sausage and simmer 10 minutes to blend flavors.

Season to taste with salt and pepper.

Transfer to large bowl.

Top with grated Parmigiano cheese, if desired.