Fan Recipe for Friselle or Frizzelle de Pepe from Raffaele Iorio
Fan Recipe for Friselle or Frizzelle de Pepe from Raffaele Iorio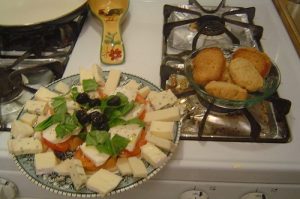 Here is the recipe for Friselle or frizzelle del Pepe  that has been in my family for generations:

Ingredients:
Unbleached all-purpose flour 3 1/2 cups

Baking Powder 1 1/2 Tblspn

Ground black pepper (Fresh) 1 Tbsp (or to taste)

Salt (fine ground sea) 1 1/2 Tblspn (or to taste)

Virgin Olive Oil 3/4 cup

Cold Water 1 cup
Directions:
Mix together dry ingredients in a bowl.

Add oil and water together with dry ingredients and hand knead in bowl.

Roll out on counter/board and form two 12″ x 1 1/2″ cigar shapes.

Cut each roll into 3/4″ slices and place on oiled baking tray (each slice can again be cut into thirds to make nuggets instead of full biscotti…they can also be made into straight twists or circular twists for general snacking).

Place tray in oven pre-heated to 350 deg. and bake 1 hour or to brown.

Excellent bread base (soaked in hot water) for a thick scungilli gravy, maybe even with a side of linguine like at Joe's Clam Bar in Sheepshead Bay, Brookyn :o)…mangia bene Raffaele Iorio.