Spinach Frittata Recipe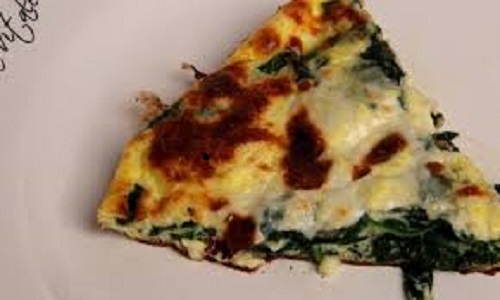 Ingredients
Servings Serves 4
5 Eggs

½ cup of Milk

1 Tbsp of Olive Oil

2 Cloves of Garlic, minced

4 cups of Fresh Baby Spinach, washed and dried

½ cup of Shredded Provolone Cheese

½ cup of Freshly Grated Parmiggiano Reggiano

Salt and Pepper, to taste
Preparation
1) In a small skillet, cook the garlic in the oil over medium heat for about 1 minute, add the spinach and cover the skillet with a lid for 1 minute or until the spinach is wilted.
2) In a small bowl, whisk together the eggs, milk, parmiggiano, half of the shredded provolone and salt and pepper, set aside.
3) Remove the lid from skillet and give the spinach a toss, pour in the egg mixture and using a wooden spoon pull in the set eggs from the sided of the skillet. Let it cook for about 5 to 7 minutes or until the frittata is pretty much set.
4) Preheat your broiler.
5) Sprinkle the top of the frittata with the remaining provolone and some more parmiggiano.
6) Pop it under the broiler for a couple minutes or until the top is golden brown and the frittata is set. Cut and serve