Pasta with Shrimp Recipe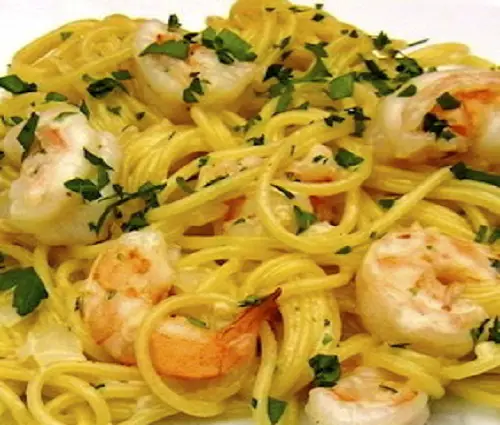 Ingredients

1/4 cup (1/2 stick) butter

1 medium onion, chopped fine

2 cloves garlic, minced

1 cup heavy cream

1 lb large (25 – 30 ct) shrimp, cleaned, peeled, tails removed, cut in half

1 lb cooked thin spaghetti

3 tbsp fresh parsley, chopped, separated

salt & ground white pepper, to taste

reserved pasta water
Directions
Melt butter in a large, deep frying pan over med-high heat.

Add onion and sauté until soft, about 3 minutes.

Add garlic and continue sautéing for another minute.

Add shrimp and sautéing for about 2 minutes. Shrimp should not be thoroughly cooked at this point.

Add the cream and allow shrimp to finish cooking as the cream reduces slightly, about 2 – 3 minutes.

Season with 2 tbsp of the parsley before adding the cooked spaghetti to the pan. Mix until the pasta is well-coated. If necessary, add a little of the reserved pasta water. Taste the dish and season with salt & pepper.

Garnish with remaining tbsp of parsley and serve immediately.