Farfalle with Butternut Squash, Olives & Grapes
Farfalle with Butternut Squash, Olives & Grapes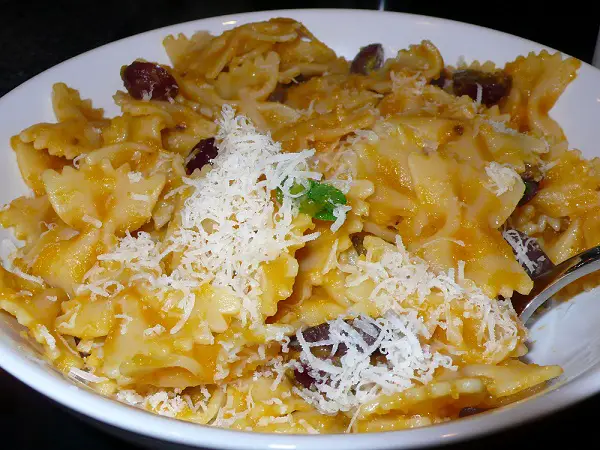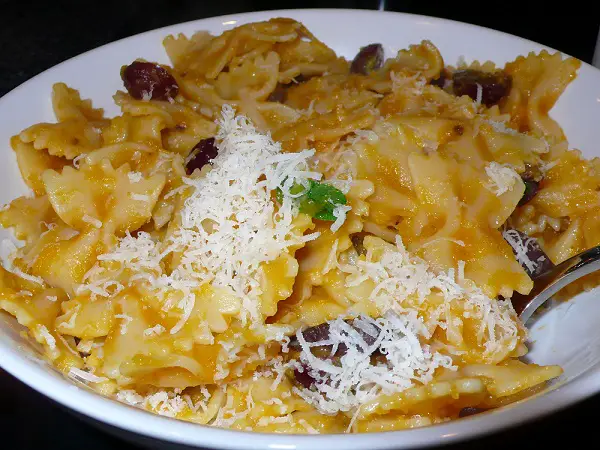 Ingredients
½ of a medium butternut squash

    ½ cup kalamata olives, pitter and quartered

    ½ cup red grapes, halved or quartered depending on their size

    1 clove of garlic, peeled and left whole

    2 tbsp extra-virgin olive oil

    ½ cup of white wine

    ½ lb farfalle

    A few sprigs of parsley

    Grated parmigiano reggiano, to taste
Directions
Preheat the oven to 425ºF. Cover a baking sheet with foil and brush lightly with olive oil.

Cut the squash in half, scoop out the seeds and stringy membranes, brush the cut sides with olive oil and lay cut side down on the foil-covered baking sheet. Bake 40 minutes, or until soft enough to pierce easily with a knife.

 Remove from the heat and allow to cool. Peel and purée in a blender, adding water, if needed.

Fill a large pot with water for the pasta. Bring to a boil over high heat. Once the water starts to boil for the pasta add a small handful of salt to the water and bring to a rolling boil. Add the pasta and cook until al dente.

In the meantime, heat oil in a deep skillet or a wide saucepan over medium heat and add the garlic. When the garlic starts to simmer, add the olives, sizzle in the oil for about 30 secords and then add butternut squash purée and the white wine. Reduce the heat and simmer until the pasta is ready.

When the pasta is perfectly al dente, turn up the heat on the sauce and drain the pasta. Without shaking all of the water out of the colander pour the pasta and the grapes into the pan and toss it with the sauce. This allows for the pasta to cook a little longer in the sauce and to absorb the flavor.

Add the parsley off of the heat. Serve immediately with grated parmigiano reggiano.