Pasta, Patate e Provola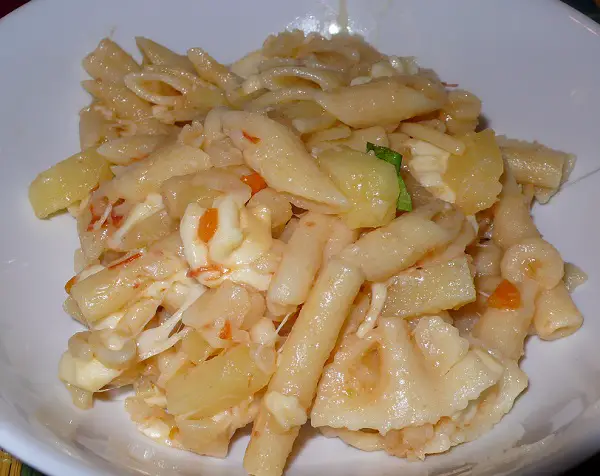 Ingredients
    1 lb pasta mista

    1 generous lb potatoes, peeled and diced

    8 cherry tomatoes

    1/4 lb onions, minced

    1 stick of celery, minced

    a small carrot, minced

    a few basil leaves

    a 1/2 inch piece of lardo, salami, bacon or pancetta

    1/2 lb of smoked provola cheese, cut into small pieces

    3 tbsp of grated parmigiano reggiano

    4 tbsp extra-virgin olive oil

    salt and pepper to taste
Directions
Prepare a "battuto" with the lard (salami), the onion, carrot and the celery and gently sauté with the olive oil; add the tomatoes that you have squished in the palm of your hand and add the potatoes.

Let the ingredients stew, adding, if necessary, a bit of water.

When the potatoes are about half cooked, add 4 or 5 ladles of warm salted water.

When the water starts to boil, add the pasta, stir and continue adding the warm salted water, a little at a time, like a risotto, leaving it to progressively absorb the water.

Turn the heat off when the pasta is almost ready but still very al dente.

Put the pasta and the potatoes in a casserole dish and put it back on a low flame dressing it with black pepper, parmigiano and the smoked provola.

Add the basil and when the provola starts to melt, serve.