Farfalle With Stewed Fennel, Artichokes and Peas
Farfalle With Stewed Fennel, Artichokes and Peas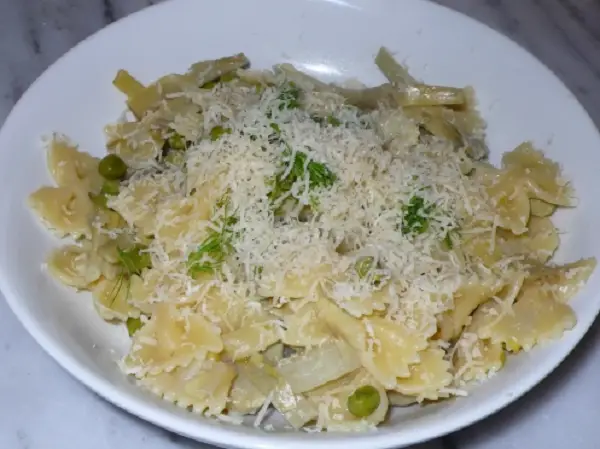 Ingredients
Serves six.
    2 tablespoons extra virgin olive oil

    2 bunches scallions or 8 to 10 ounces spring onions, white and light green parts only, chopped

    1/2 pound frozen artichoke hearts or artichoke bottoms, thawed, quartered and sliced 1/2 inch thick, or 6 baby artichokes, trimmed, quartered and sliced 1/2 inch thick

    2 fennel bulbs, trimmed, quartered, cored and chopped (about 2 cups chopped)

    Salt and freshly ground black pepper to taste

    2 cups shelled peas (fresh or thawed frozen) or shelled, skinned fava beans

    2 tablespoons finely chopped fennel fronds or parsley

    1 pound farfalle

    Grated pecorino, Romano or Parmesan cheese for serving
Directions
Heat the oil over medium heat in a large, heavy, lidded skillet or Dutch oven, and add the olive oil.

 Add the scallions or onions, and cook, stirring, until tender, three to five minutes.

Add the artichokes and the fennel to the pan, and cook, stirring, for three to five minute, until the vegetables begin to soften.

Add 1 cup water and salt to taste, and bring to a boil. Reduce the heat, and boil gently for five minutes, then add pepper to taste. Cover and simmer for 15 minutes.

Check to see if the artichokes and fennel are tender (simmer five minutes longer if they are not).

Add the peas or fava beans and more water if necessary. (There should be about 1/2 inch of liquid in the pan.) Cover and simmer 10 to 20 more minutes until all of the vegetables are tender.

Stir in the chopped fennel fronds or parsley, stir for another minute and remove from the heat.

Taste and adjust salt and pepper.

Meanwhile, as the vegetables are simmering, bring a large pot of water to a boil. When the water comes to a boil, salt generously and add the farfalle. Cook al dente, following the timing instructions on the package but checking the pasta a minute before the indicated time.

Add 1/2 cup of the pasta cooking water to the vegetables, and drain the pasta.

Toss immediately with the vegetables, and serve, passing the pecorino or Parmesan at the table.

Advance preparation: The vegetable mixture can be made a day ahead and will keep three or four days in the refrigerator. Reheat in a pan on top of the stove, cook the pasta and serve.