Farfalle with Portobello Mushrooms and Arugula
Farfalle with Portobello Mushrooms and Arugula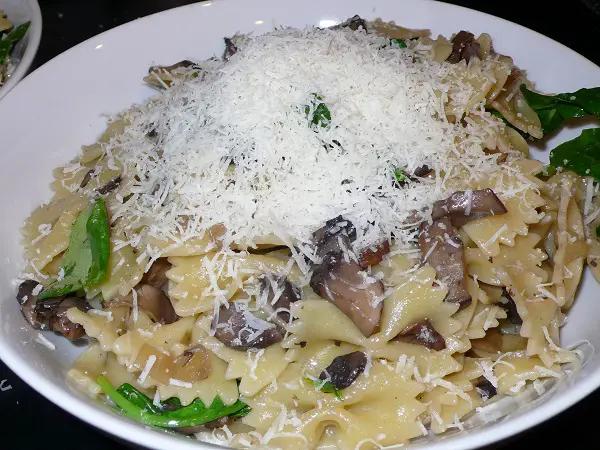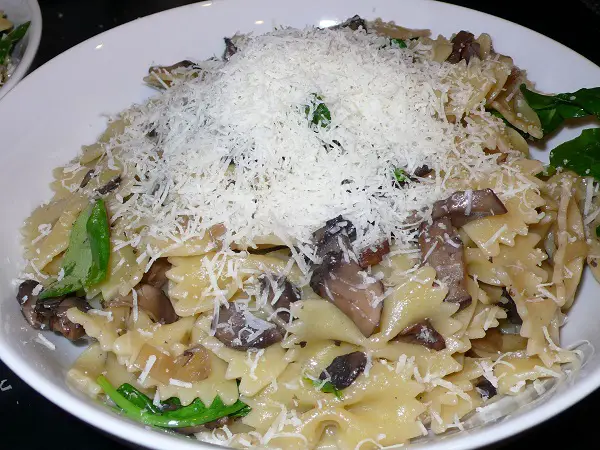 Ingredients
    2 large portobello mushrooms, thinly sliced

    1 small onion, finely chopped

    2 tbsp extra-virgin olive oil

    1 cup of white wine

    2 cups fresh arugula, packed (you can chop the arugula, but it shrinks considerably when it welts, so save yourself the trouble)

    1/2 cup of chopped parsley

    1/2 lb of farfalle pasta

    2 tbsp butter

    grated parmigiano reggiano for sprinkling on the pasta, to taste
Directions
Heat oil in a wide saucepan over medium-high heat and add onions, cook until the onions are transparent, stirring frequently. Add the mushrooms, let them release their juices for a few minutes before adding the white wine. Lower heat to a medium flame and cover pan. Sauté mushrooms until they are soft, stirring occasionally, if they start to dry out, add water to the pan.

In the meantime, fill a large pot with water for the pasta. Bring to a boil over high heat. Once the water starts to boil for the pasta add a small handful of salt to the water and bring to a rolling boil. Add the pasta and cook until al dente.

When the pasta is perfectly al dente, turn up the heat on the sauce and drain the pasta. Without shaking all of the water out of the colander pour the pasta and the arugula into the pan and toss it with the sauce. This allows for the pasta to cook a little longer in the sauce and to absorb the flavor.

Add the parsley and the butter off of the heat. Serve immediately with grated parmigiano reggiano.