Casareccie with Pattypan Squash
Casareccie with Pattypan Squash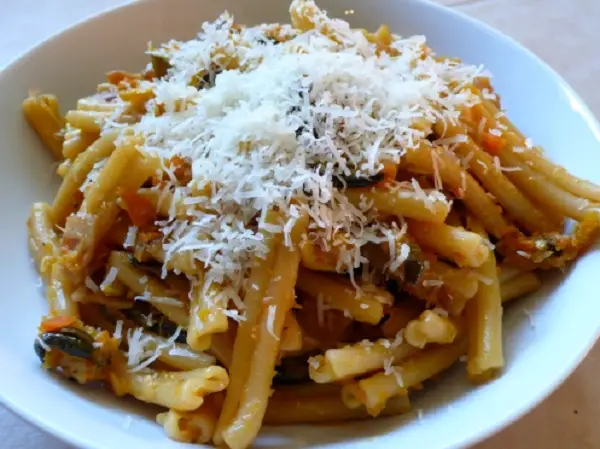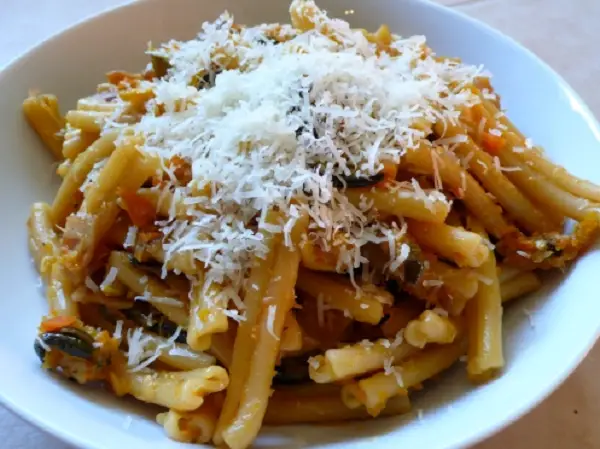 Ingredients
    3 pattypan squash

    3 slices of bacon, cut into small pieces

    1 carrot, peeled

    1 stalk of celery

    1/2 an onion

    2 tbsp extra virgin olive oil

    1/2 lb of casareccie pasta

    grated parmiggiano reggiano cheese
Directions
Preheat your oven to 400°.

 Cut pattypan squash into 1/2 inch slices. Place in a single layer on a baking sheet and drizzle with olive oil. Roast for 10 to 20 minutes, depending on how much time it takes them to brown. When they are browned, remove from the oven and allow to cool.

Fill a large pot with water for the pasta. Bring to a boil over high heat.

Heat a pan over low-heat and add your bacon pieces. While the bacon is cooking, chop your carrot, celery and onion in a food processor. If you have parsley at hand, add a few sprigs, it will add great color.

When the bacon has started to sizzle and change color add the carrot mix, sauté for a few minutes, allowing the liquid to evaporate. Chop the cooled roasted pattypans and add to the pan. There should be a lot of liquid from the vegetables, but if it starts to dry out add about a half cup of water.

Once the water starts to boil for the pasta add a small handful of salt to the water and bring to a rolling boil. Add the pasta and cook until al dente. When the pasta is perfectly al dente, drain the pasta and turn up the heat on the sauce. Without shaking all of the water out of the colander pour the pasta into the pan and toss it with the sauce. This allows for the pasta to cook a little longer in the sauce and to absorb the flavor. Serve immediately with grated parmiggiano reggiano.