Orecchiette with Cauliflower and Anchovies
Orecchiette with Cauliflower and Anchovies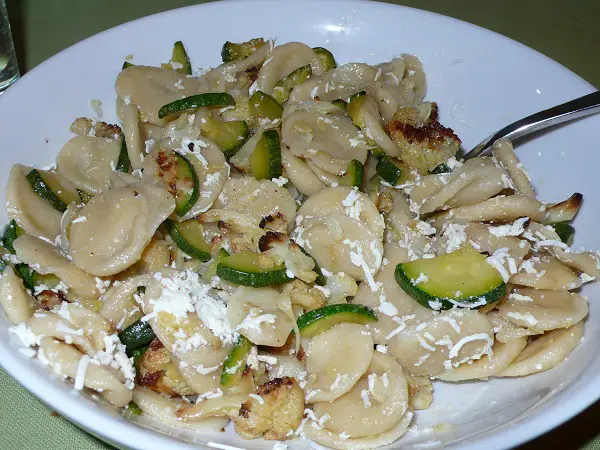 Ingredients
    1 large head of cauliflower, trimmed, cut into 1-inch florets

    6 tbsp. extra-virgin olive oil, divided

    1 cup of breadcrumbs

    3 medium zucchini, trimmed, cut into 1/3-inch cubes (about 3 cups)

    3 large garlic cloves, chopped

    7 anchovy fillets, finely chopped

    1 lb orecchiette or medium-size shell pasta

    ½ cup chopped Italian parsley, divided

    1/3 cup (packed) freshly grated ricotta salata, plus additional for serving
Directions
Preheat oven to 425°F.

Toss cauliflower florets with 1 tbsp olive oil in large bowl to coat. Sprinkle with salt and pepper and spread in single layer on large rimmed baking sheet. Roast until cauliflower florets are tender and beginning to brown in spots, stirring occasionally, about 25 minutes. Cool to room temperature.

Toast your breadcrumbs in a small heavy bottomed skillet, tossing occasionally until browned and toasty.

Fill a large pot with water for the pasta. Bring to a boil over high heat.

In the meantime, heat 2 tbsp olive oil in large deep nonstick skillet or large pot over medium-high heat. Add zucchini and garlic and sauté until zucchini is golden brown and crisp-tender, 3 to 4 minutes. Add cauliflower and anchovies and sauté until heated through, 3 to 4 minutes. Season to taste with salt and pepper.

Once the water starts to boil for the pasta add a small handful of salt to the water and bring to a rolling boil. Add the pasta and cook until al dente.

When the pasta is perfectly al dente, add a cup of the pasta water to the sauce, turn up the heat and drain the pasta. Without shaking all of the water out of the colander pour the pasta into the pan and toss it with the sauce. This allows for the pasta to cook a little longer in the sauce and to absorb the flavor.

Turn off the heat and add the remaining 3 tbsp olive oil, 1/3 cup parsley, 1/3 cup freshly grated ricotta salata and toss to coat.  Serve immediately with additional grated ricotta salata.