Flounder Fillets in White Wine
Flounder Fillets in White Wine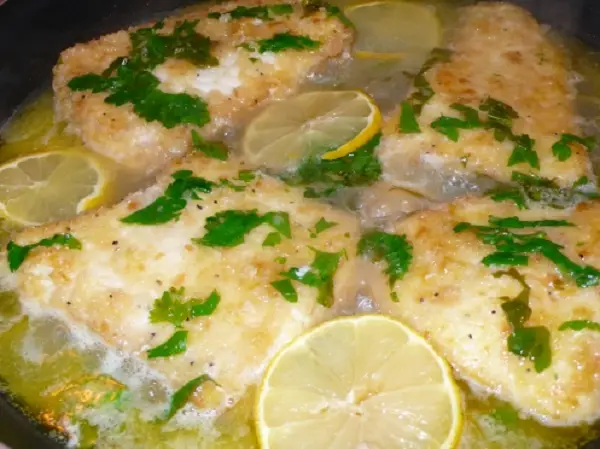 Ingredients
    1 pound of flounder fillets

    2 eggs, well beaten

    1-2 cups of breadcrumbs for dredging

    1/2 cup extra-virgin olive oil

    2 tbsp butter

    1 cup of dry white wine

    A few sprigs of flat-leaf parsley

    1/2 a lemon, sliced

    Salt and pepper to taste
Directions
An hour or so before cooking, beat eggs until they become a light yellow. Leave the fillets to sit in the beaten eggs for at least an hour at room temperature, turning once.

Heat the oil in a frying pan until it sizzles when you drop a breadcrumb in the oil. This indicates that the oil is ready for frying. While the oil is heating up, dredge the fillets in the breadcrumbs, and once the oil is ready place them in the frying pan. Brown on both sides, about a minute and a half for each side. You don't need to worry about the fish being completely cooked through, it will continue cooking in the wine.

Remove the fish to a plate lined with paper towels to drain. Heat butter and a spoonful of the oil used for frying in another large frying pan, place the fried fish in the pan and add the white wine, lemons and parsley. Bring the wine to a boil, lower the heat and let simmer for about 5 minutes, spooning the sauce over the fillets to keep them from drying out.

Serve immediately with the sauce that it was cooked in and extra slices of lemon if desired.