Stuffed Eggplant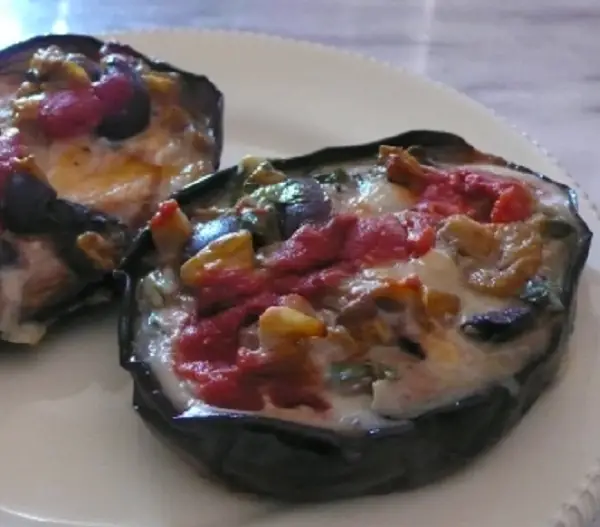 Ingredients
    8 small eggplants or 4 medium eggplants

    Around 1 liter of tomato sauce

    2 eggs

    1 cup of chopped mozzarella or fior di latte (well drained)

    A fistful of grated cacioricotta or ricotta salata

    1/2 cup of pitted black olives

    A few leaves of basil

    A few leaves of parsley

    1 garlic clove, peeled and left whole

    Extra-virgin olive oil

    Salt to taste
Directions
Using a spoon carve out the eggplants after cutting them in half lengthwise. Chop the pulp that you scooped out, salt it and allow it to drain for an hour.

In the meantime fry the eggplant boats and set them aside. The recipe does not indicate how much olive oil should be used, Though eggplant does soak up a lot of oil, I try not to use too much, I will leave it to the reader's discretion.

Squeeze out the eggplant pulp and saute it in a few tbsp of extra-virgin olive oil with the garlic. Remove the garlic, cool and add the eggs with all of the other ingredients, binding it all together with a few spoonfuls of tomato sauce. Fill the eggplant boats, pressing the filling in, but being careful not to overfill them.

Spoon a a little tomato sauce in the bottom of a terracotta or a glass dish and place the eggplant inside the dish. On every eggplant boat spoon a little bit of tomato sauce. Bake for 15 minutes in a preheated 200°C (400°F). Serve warm or at room temperature.