Cheesy Roasted Garlic Tomato Mushroom Pasta
Cheesy Roasted Garlic Tomato Mushroom Pasta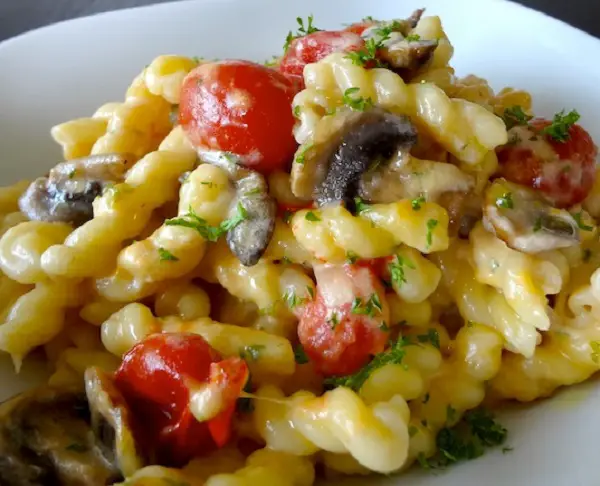 Ingredients
Veggies:
1 cup cherry tomatoes (cut in half)

3 chopped garlic cloves

1 cup chopped cremini mushrooms

1  chopped white onion
Directions
Preheat oven to 400 F

Drizzle extra virgin olive oil generously over the veggies.

Season with sea salt, black pepper, and fresh chopped parsley.

Bake 15 minutes or until soft. Set aside.
Ingredients
Pasta:
1 packet gluten-free gemelli pasta

2 cups grated aged cheddar cheese

1/2 cup grated parmesan cheese

2 cups cream

Fresh parsley

Extra virgin olive oil

Sea salt and black pepper

1 cup vegetable broth (optional)
Directions
Cook pasta according to instructions on the package. Drain.

Preheat oven to 350 F

Combine all the ingredients in a large Dutch Oven or similar.

Add one cup of vegetable broth is the mixture if too thick (should be watery).

Sprinkle extra cheese over the top.

Drizzle with olive oil.

Cover and bake for 30 to 40 minutes or until cheese has melted and the sauce has thickened.

 Remove lid and broil for 5 to 10 minutes or until cheese is crispy and brown on top.

Serve warm with fresh basil pesto on the side (optional)