Flounder in Saffron-Tomato Sauce
Flounder in Saffron-Tomato Sauce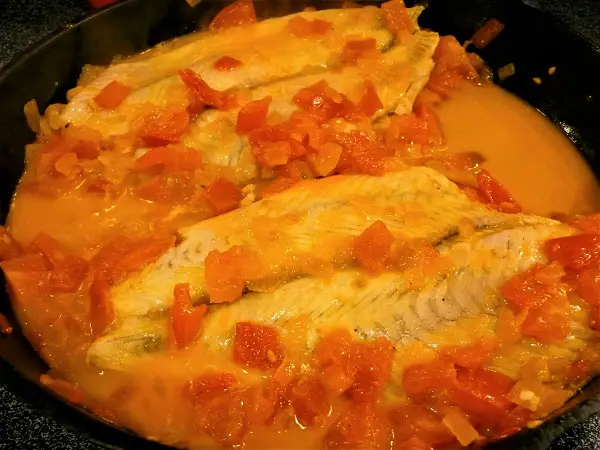 Ingredients
    1/8 tsp. saffron threads

    3 tbsps. extra-virgin olive oil

    1 medium onion, chopped

    ½ cup diced, red pepper

    1½ lb. ripe tomatoes, peeled, seeded and pureed, or one 28-ounce can plum tomatoes, drained and pureed

    Salt and freshly ground pepper , to taste

    1½ to 1¾ lb flounder (or sea bass)  about 1 inch thick

    3 tbsps. chopped fresh basil or Italian parsley
Directions
Slightly crush saffron with your fingers and soak it in the oil in a small cup about 20 minutes.

Transfer saffron oil to a large sauté pan or skillet and cook briefly over low heat.

Add onion and bell pepper and sauté over medium-low heat about 5 minutes or until onion begins to turn golden.

 Add tomatoes, salt and pepper and cook over medium-high heat, stirring often, 8 to 10 minutes or until thick.

Add fish in one layer to sauce and sprinkle with salt and pepper.

Cover and cook over medium-low heat, spooning sauce over fish from time to time, about 10 minutes or until thickest part of fish becomes opaque inside; check with a sharp knife.

Taste sauce and adjust seasoning.

Stir 2 tbsp basil gently into sauce.

Serve hot  sprinkled with remaining basil.