Sweet Potato Green Bean Pearl Couscous Salad
Sweet Potato Green Bean Pearl Couscous Salad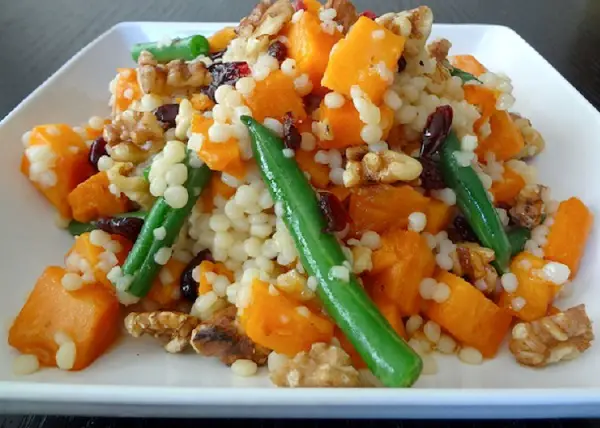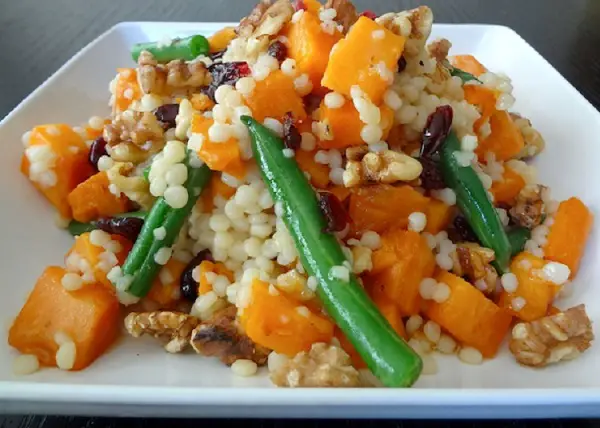 Ingredients
2/3 cups pearl couscous

1 large sweet potato, remove skin, cut into small cubes

1 cut chopped fresh green beans

2 tablespoons dried cranberries

1/4 cup roasted walnuts

1 small white onion, chopped

Sea salt and black pepper

5 tablespoons Extra virgin olive oil

3 cups vegetable broth
Directions
Saute sweet potato, onions, and green beans in two tablespoons of olive oil to cook.

Season with sea salt and black pepper.

Boil couscous in vegetable broth for 10 to 12 minutes until al dente.

 Drain excess liquid.

Combine all the ingredients.

Drizzle olive oil over the top to serve.
Recipe From
http://www.miasdomain.com/search?q=Sweet+Potato+Green+Bean+Pearl+Couscous+Salad