Frank – Dean – Bing – Oldest Crap Game in NY – Will make you smile
Frank – Dean – Bing
Will make you smile
"Nathan Detroit"
Guys and Dolls 
*
Nathan Detroit, played by Frank Sinatra on the screen, is one of the 4 lead characters of Guys and Dolls. He is a crap game promoter and is the fiance of Miss Adelaide, playing a large part in their fourteen year long engagement. He is known for running the "Oldest Established Permanent Floating Crap Game in New York."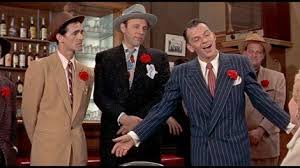 Guys and Dolls is a musical with music and lyrics by Frank Loesser and book by Jo Swerling and Abe Burrows. It is based on "The Idyll of Miss Sarah Brown" and "Blood Pressure" – two short stories by Damon Runyon – and also borrows characters and plot elements from other Runyon stories – most notably "Pick the Winner".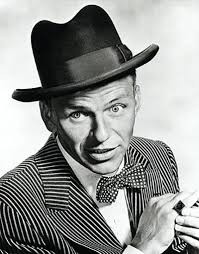 The premiere on Broadway was in 1950. It ran for 1200 performances and won the Tony Award for Best Musical. The musical has had several Broadway and London revivals, as well as a 1955 film adaptation starring Marlon Brando, Jean Simmons, Frank Sinatra and Vivian Blaine.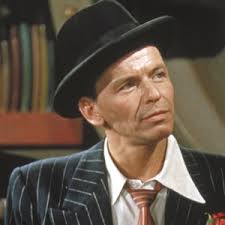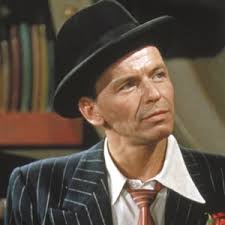 Guys and Dolls was selected as the winner of the 1951 Pulitzer Prize for Drama. However, because of writer Abe Burrows' troubles with the House Un-American Activities Committee (HUAC), the Trustees of Columbia University vetoed the selection, and no Pulitzer for Drama was awarded that year.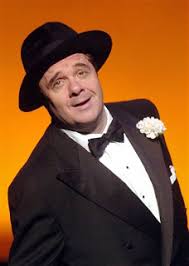 Multiple critics asserted that the work was of great significance to musical theatre. John McClain of the New York Journal American proclaimed, "it is the best and most exciting thing of its kind since Pal Joey. It is a triumph and a delight". Atkinson stated, "we might as well admit that Guys and Dolls is a work of art. It is spontaneous and has form, style, and spirit." Chapman asserted, "In all departments, Guys and Dolls is a perfect musical comedy".