Frank Sinatra & Bing Crosby – "High Society"
Frank Sinatra & Bing Crosby
"High Society"
*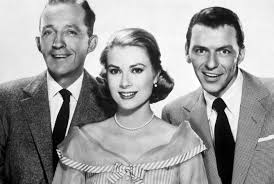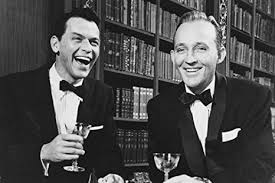 The film is a remake of the 1940 movie The Philadelphia Story starring Cary Grant, Katharine Hepburn, and James Stewart, which was based on the play The Philadelphia Story by Philip Barry (which had starred Hepburn on Broadway). High Society's screenplay was written by John Patrickand involves a successful popular jazz musician (Bing Crosby) who tries to win back the affections of his ex-wife (Grace Kelly), who is preparing to marry another man. The cast also features Celeste Holm, John Lund and Louis Calhern, in his final film, with a musical contribution by Louis Armstrong.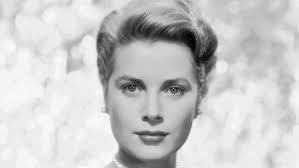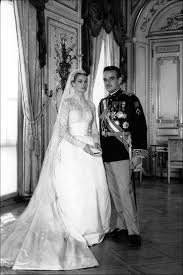 The successful jazz musician C.K. Dexter Haven (Bing Crosby) (with a Newport "robber baron for a grandfather") is divorced from wealthy Newport, Rhode Island, socialite Tracy Samantha Lord (Grace Kelly), but remains in love with her. She, however, is about to get married to a bland gentleman of good standing, George Kittredge (John Lund).
Spy Magazine, a fictional tabloid newspaper in possession of embarrassing information about Tracy's father, sends reporter Mike Connor (Frank Sinatra) and photographer Liz Imbrie (Celeste Holm) to cover the nuptials. Tracy begins an elaborate charade as a private means of revenge, introducing her Uncle Willy (Louis Calhern) as her proper father Seth Lord (Sidney Blackmer) and the latter as her "wicked" Uncle Willy.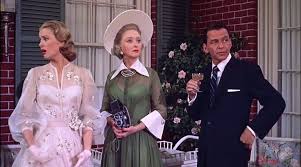 Spy Magazine Reporters
Connor falls in love with Tracy, who must choose among three very different men in a course of self-discovery. After becoming tipsy at a party on the eve of her wedding and going off with Connor for a romantic swim, Tracy decides to go through with it until Kittredge takes umbrage. While in the process of telling her guests that the wedding is off, Tracy is surprised by a proposal from Dexter to take the groom's place. Realizing where her heart truly is, she accepts.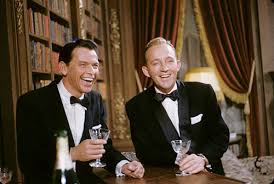 Frank Sinatra and Bing Crosby
"Did You Evah"