Fried Apple Rings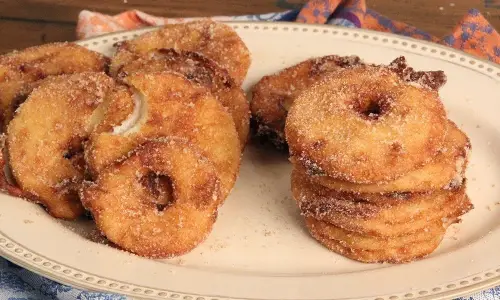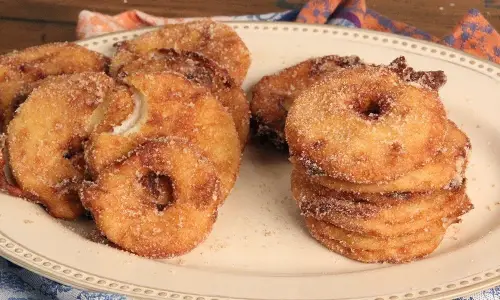 Ingredients
    4 Large apples

    1-1/2 cups of all Purpose Flour

    1/4 cup of Sugar

    2 cups of Buttermilk

    1/2 tsp of Salt

    1 Egg

    2 Tbsp Vegetable Oil

    1 Tbsp of Vanilla Extract

    For the coating:

    1/2 cup of Granulated Sugar mixed with 1 tsp of Ground Cinnamon

    Vegetable Oil for frying
Preparation
    1) Add enough oil to come halfway up the sides of a heavy bottomed pot and preheat it to 360 degrees.
    2) Peel and slice your apples into 1/3" thick slices and remove the core, set aside.
    3) In a bowl, mix together the flour, sugar, salt, buttermilk, egg, vegetable oil and vanilla.
    4) When the oil is ready, dip each slice of apple in the batter, shake off any excess batter and fry them for about a minute on each side then drain them on a paper towel lined plate before coating them in the cinnamon sugar.
    NOTES:
Please make sure you don't slice the apples too thin or they will be soggy after frying. Also, these are meant to be eaten IMMEDIATELY because apples are full of water and therefore the longer they sit the softer they will become. However, if they sit too long and become soft, don't serve them as is, serve them kind of like a pancake with a dollop of butterpecan ice cream (any ice cream of your choice) on top and dig in! I promise either way you wont be dissapointed and truth be told, I prefer them more as a pancake with ice cream on top!