Pasta with Rapini and Garlic
Pasta with Rapini and Garlic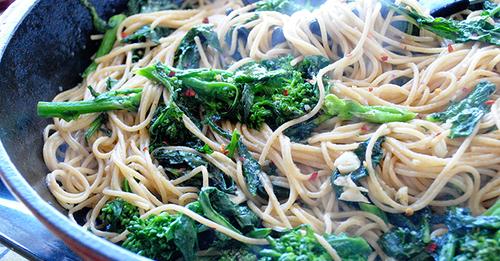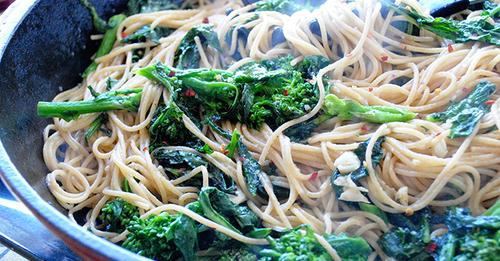 Ingredients
Servings: 2 -3
    1/2 lb whole wheat spaghetti or favorite pasta

    2 tablespoons extra virgin olive oil

    5 cloves fresh garlic chopped, sliced or crushed

    1 bunch fresh rapini or favorite greens, cleaned and roughly chopped

    1 teaspoon crushed red pepper

    1 tablespoon grated Parmigiano or Romano cheese (I prefer Pecorino)

    kosher salt to taste
Instructions
    In large pot, boil spaghetti according to package directions.

    While pasta is cooking, in cast iron (or heavy skillet) pan, heat olive oil on medium and add garlic for about 30 seconds.

    Toss in rapini and cook for about 4-5 minutes, or until slightly tender.

    If pasta sticks to pan, add about 1/4 cup of pasta liquid and continue to toss. You can also use a little white wine, or a bit of both.

    Transfer to serving platter and toss with more Parmigiano cheese.

    Serve immediately!
From the Garlic Girl
https://garlicgirl.com/