Genova Pesto with linguine recipe
Genova Pesto with linguine recipe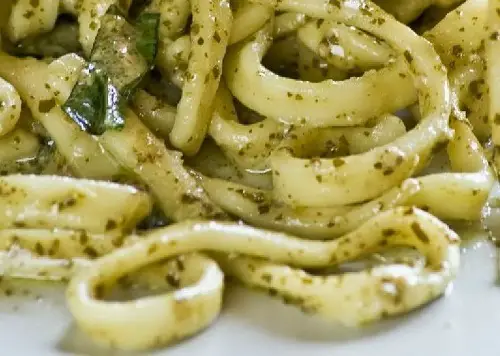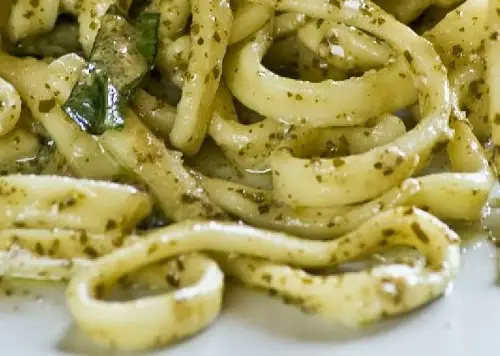 Speaking of pesto comes to mind immediately of Liguria: it is in this beautiful region that, with great care, does this sauce which is said to be even an aphrodisiac.
Pesto is a sauce cold, synonym and symbol of Genoa and the whole Liguria, which for several decades is one of the most well-known and widespread sauces in the world. Like any traditional recipe, every family has its own recipe for pesto sauce, qella that we propose in this recipe is one of the Consorzio del Pesto Genovese.
Ingredients
300g Italian linguine pasta

2 cloves garlic

Coarse sea salt 1 pinch

Extra virgin olive oil 100ml

50 grams of basil leaves

Grated pecorino cheese 2 tablespoons (about 30 grams)

Pine nuts 1 tablespoon (about 15 grams)

Grated Parmesan cheese 6 tablespoons (about 70 grams)
Preparation
To prepare the pesto sauce should be first noted that the basil leaves are not washed, but clean with a soft cloth, and whether it's Ligurian or Genovese basil, narrow-leaved (and not the southern large leaves, which often an aroma of mint). Start preparing the pesto by placing the peeled garlic in a mortar along with a few grains of salt.

Begin to crush the garlic and when it will be reduced cream, add the basil leaves together with a pinch of salt, which will serve to crush the fibers better and maintain a beautiful bright green color, crushed, then, basil against sides of the mortar pestle rotating from left to right and at the same time rotate the mortar in the opposite direction (from right to left), taking him by the "ears", or 4 round protrusions that characterize the mortar itself, keep it up until the leaves basil will not come out a bright green liquid, at this point, add the pine nuts and start to pound for reducing cream.

Add the cheese a bit 'at a time, stirring constantly, which will make it even more creamy sauce, and finally the extra virgin olive oil that will pour in, stirring constantly with the pestle. Mix the ingredients well until you get a smooth sauce.

Cook the pasta in salted water for about 10 minutes.

Meanwhile, pour the pesto sauce in a pot or a pan and dilute it with 2 tablespoons of cooking water from the pasta, stirring well for a few minutes.

Serve.
Conservation
You 'can freeze the pesto in small jars and then thaw in a refrigerator or at room temperature. Preserved freshly prepared pesto in refridgerator for 2-3 days in an airtight container taking care to cover the sauce with a layer of oil.