Italian Eggplant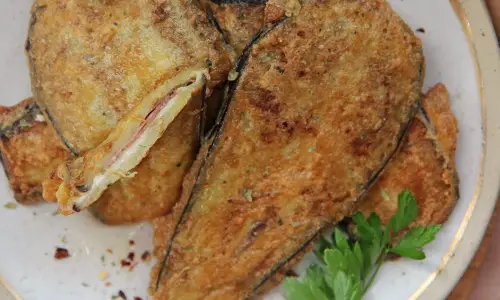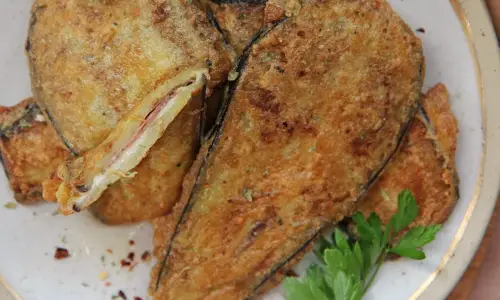 Ingredients
    2 Eggplants, small to medium, thinly sliced with a mandolin

    1/2 cup of Flour

    3 Eggs

    1/2 cup of Grated Parm

    Sliced Provolone

    Sliced Prosciutto

    Salt and Pepper to taste

    Light Olive Oil
Preparation
    1) Working in batches, add a tiny amount of olive oil and sear each piece of eggplant for just a minute or two on each side, remove to a plate and continue cooking the rest of the eggplant adding a drizzle of oil between batches.
    2) In a shallow bowl, stir the flour with a little salt and pepper and set aside. In a separate shallow bowl, whisk together the eggs, parm, salt and pepper, set aside as well.
    3) Add 1/2" of oil to the skillet, working in batches, make add a piece of provolone followed by a slice of prosciutto on a slice of eggplant, top with another slice, then dredge into the flour (shake off excess) dip into beaten egg mixture and fry until golden brown on both sides.
    4) Drain the eggplant on paper towel lined plate, continue with remaining eggplant and serve!